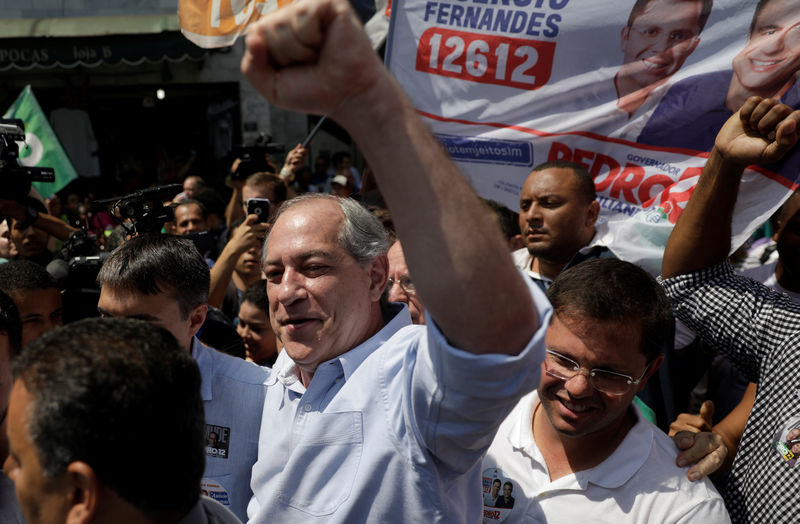 Brazilian presidential candidate Ciro Gomes, who sits in third place in polls, underwent a medical procedure on Tuesday to cauterize blood vessels in his prostate, his campaign said in a statement.
Gomes was attended at Sao Paulo's Sirio-Libanes hospital after doctors recommended he undergo the procedure following an exam.
"The procedure was successful," Gomes' campaign said in its emailed statement. "As it was a simple procedure, Ciro Gomes will be able to quickly return to his normal activities."
It said Gomes would spend the night in hospital and then campaign normally on Wednesday. It did not provide any more details on Gomes' health.
The center-left Gomes is behind front-running, right-wing candidate Jair Bolsonaro, who has been hospitalized at the Albert Einstein hospital in Sao Paulo since being stabbed in an assassination attempt earlier this month.
Brazil's election is one of the most turbulent since the country's return to democracy three decades ago, coming after four years of unprecedented graft investigations revealed stunning levels of political corruption that has fanned voter disdain for the political class.
Gomes, a tough-talking former governor and finance minister, has worked to position himself as a moderate alternative between Bolsonaro, who has openly praised Brazil's 1964-85 dictatorship, and Workers Party's candidate Fernando Haddad, the hand-picked successor of the party's jailed leader, Luiz Inacio Lula da Silva, who remains the country's most popular politician but is banned from running by his corruption conviction.
Polls indicate that a runoff vote is likely, a requirement if no candidate wins a majority in the first ballot on Oct. 7, and that Haddad would likely beat Bolsonaro.