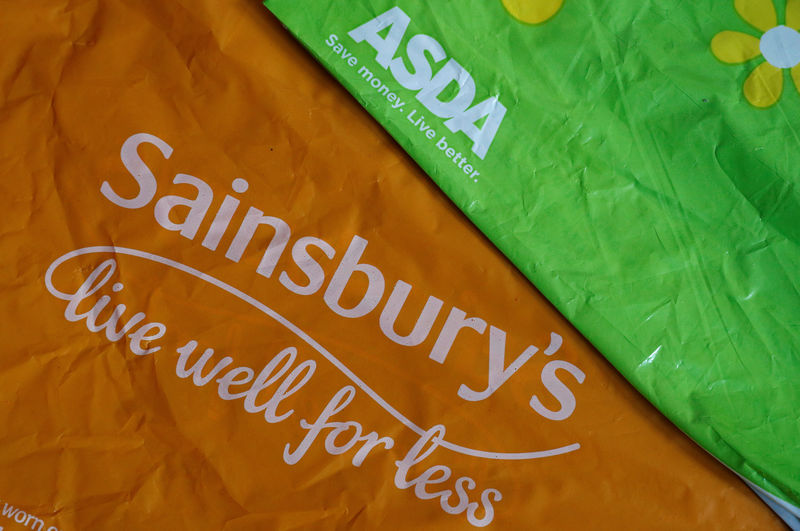 Britain's competition regulator referred Sainsbury's (SBRY.L) 7.3 billion-pound ($9.60 billion) takeover of Asda (WMT.N) for an in-depth review on Wednesday because their stores overlapped in hundreds of local areas.
The Competition and Markets Authority said shoppers could face higher prices or a worse quality of service in places where both chains had shops.
It said it also needed to investigate whether a combination of Britain's second and third biggest supermarkets would have increased buying power over suppliers.
The merged company would overtake market leader Tesco (TSCO.L) and be better placed to defend against fast-growing German discounters Aldi and Lidl.
Sainsbury's has 15.4 percent of the market while Asda has 15.3 percent, according to Kantar Worldpanel's monthly data published on Tuesday. Tesco has 27.4 percent.
However, all of the "Big Four" chains, which also include Morrisons (MRW.L), are losing share to Aldi and Lidl.
Tesco is fighting back with the launch of its own discount store format later on Wednesday.
Both Sainsbury's and Asda, the British arm of U.S. retailer Walmart, had asked the CMA to move quickly onto the in-depth phase 2 stage, the regulator said in August when it started its inquiry.
The CMA said in August it was "vital to find out if the millions of people who shop in supermarkets could lose out as a result of this deal".
"We…will not allow it to go ahead unless any concerns we find are fully dealt with," CMA chief executive Andrea Coscelli said at the time.
Sainsbury's and Asda have expressed confidence the regulator will not insist on mass store disposals as a condition for allowing the merger to proceed, but have not said how many disposals would make the deal unattractive.
A source with knowledge of Sainsbury's and Asda's thinking, previously told Reuters that store disposals running "into the hundreds" would likely kill their deal.
Phase 2 inquiries typically last 24 weeks, with the possibility of an eight-week extension. The CMA said it would set out the issues it will investigate in the coming weeks.
Shares in Salisbury's were trading marginally higher in early deals on Wednesday.