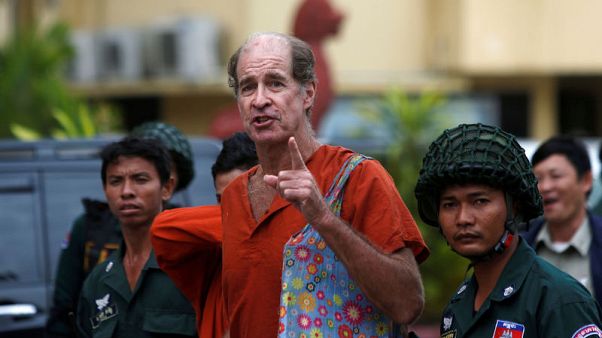 The family of an Australian filmmaker pardoned by Cambodia after being jailed on espionage charges said on Saturday it was happy the "nightmare" came to an end, while the Australian foreign minister thanked the government in Phnom Penh for his release.
James Ricketson, 69, was freed from Phnom Penh's Prey Sar prison on Friday after a court sentenced him in August to six years in jail for damaging the country's reputation.
He was arrested in June 2017 after being photographed flying a drone above a rally organised by the now-dissolved opposition Cambodia National Rescue Party (CNRP) before communal elections.
"We are just so relieved and excited about this news," Ricketson's son, Jesse, told Reuters in an e-mailed statement.
"It still hasn't really sunk in. It has been a really tough 16 months and I'm just kind of in shock right now. We would like to offer our hugest gratitude to King Norodom Sihamoni for showing us compassion and bringing this nightmare to an end."
Australian Foreign Minister Marise Payne also thanked her Cambodian counterpart for the release. "This ends a distressing time for Mr. Ricketson and his family," Payne said in an e-mailed statement.
Jesse Ricketson said the family has been concerned about his father's health as he approaches 70.
"We're not sure how long he could have continued to endure the conditions of the notorious Prey Sar prison," he said.
He added the family expected Ricketson in Australia "very soon", probably on Sunday.
The filmmaker has been visiting Cambodia for more than 20 years, producing documentaries about the country and its people.
His arrest came amid a wider crackdown on freedom of expression by Hun Sen's government and his Cambodian People's Party (CPP). The CPP in July claimed victory following a controversial general election which was largely unopposed.
Rights groups said the July 29 vote was neither free nor fair given the absence of a significant challenger to Hun Sen, who has ruled for 33 years.
Payne said on Saturday that the Department of Foreign Affairs and Trade would continue to provide Ricketson with consular assistance, but due to "privacy considerations" would not make any further statements on his release.