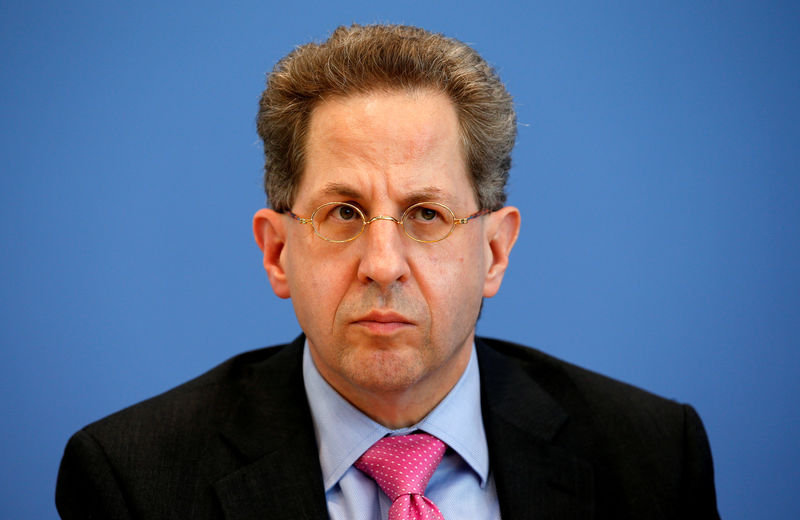 The head of Germany's domestic spy agency, facing calls to quit for questioning whether a video showing far-right gangs hounding migrants in the city of Chemnitz was genuine, now accepts the footage was real,
Germany's most violent far-right protests in decades, which took place in the eastern city over the fatal stabbing of a German man blamed on two migrants, have reignited a heated debate about Chancellor Angela Merkel's 2015 decision to open the country's borders to more than a million refugees.
Hans-Georg Maassen, who heads the BfV intelligence agency, prompted anger from lawmakers of mainstream parties last week for telling top-selling Bild he was not sure if the footage, shot in Chemnitz two weeks ago and circulated online, was genuine.
The Sueddeutsche Zeitung and the Frankfurter Allgemeine Zeitung said Maassen had written to Interior Minister Horst Seehofer saying that the video had not been falsified and that his comments had been misunderstood.
Maassen said he had meant to express doubt about whether the video genuinely showed people being chased,
Lawmakers including the leader of the Social Democrats (SPD), who share power with Merkel's conservatives, called on Maassen to resign if he failed to explain his comments, and it is not yet clear to what extent the new explanation will ease the pressure on him.
Maassen had appeared to contradict Merkel's view of the events in Chemnitz. She last week rebuked a conservative ally, head of the state of Saxony where Chemnitz is located, for playing down the violence. Police also arrested people in the city for giving the Nazi salute, an action that is illegal in Germany.
Merkel and her spokesman have repeated several times that far-right violence is unacceptable in Germany.
On Monday evening several hundred right-wing supporters dressed in black gathered in the eastern city of Halle, in Saxony-Anhalt, following the death at the weekend of a German man and the arrest of two Afghans in the nearby city of Koethen.
Police said they made 14 arrests, mainly for showing banned right-wing symbols, but there had been no serious violence.