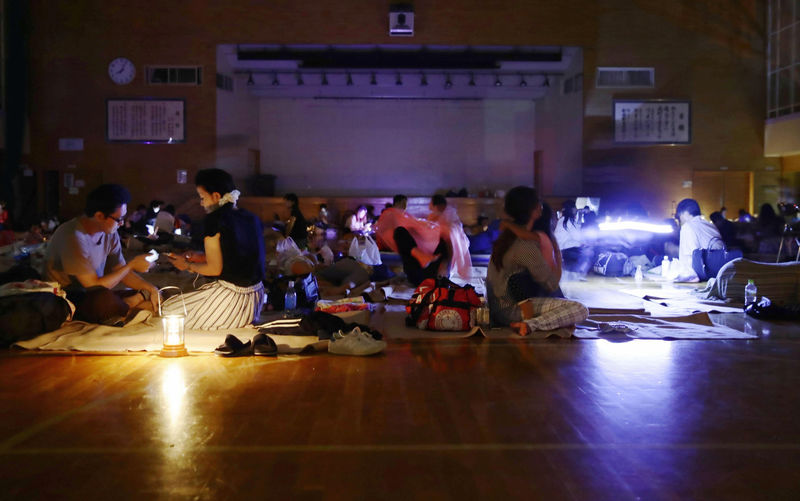 Japan is racing to secure power supplies ahead of winter after a devastating quake left 41 people dead and damaged generating stations on the northern island of Hokkaido, where temperatures regularly drop well below zero in colder months.
Although the government has eased an initial 20 percent power-savings target for residential and business customers on the island of 5.3 million, Japan's trade and industry minister Hiroshige Seko has said power supplies on Hokkaido will remain tight and unspecified savings are still needed.
Regional utility Hokkaido Electric Power is rushing to repair broken generators and bring on idle power plants, but those efforts will come up against the brutal reality of winter in Hokkaido, where temperatures can reach as low as minus 41 Celsius (minus 42 Fahrenheit).
Power demand on Hokkaido in winter is typically more than a third higher than in the warmer months before the quake.
"The harsh reality is that we have to ask for power savings every winter in Hokkaido," trade and industry minister Seko told reporters on Friday.
Asked if he was confident there would be enough supply to cope with the rise in demand, Seko said it was too early to say.
Temperatures in urban areas on the island are already dropping below 10 Celsius in early morning hours, while snow was recorded in the mountains of northern Hokkaido on Aug. 17, the earliest snowfall since 1974, local press have reported.
Sufficient power supplies for winter heating may depend on whether Hokkaido Electric can get its biggest coal-fired plant – Tomato-Atsuma – fully operational after the quake damaged all three generators at the station, Seko said.
On Tuesday, Seko said his ministry will investigate Hokkaido Electric's response to the quake, which left an island the size of Austria without power after Tomato-Atsuma was shut down. It was the nation's worst outage since the March 2011 earthquake and tsunami that devastated northeastern Japan.
Fully restarting the Tomato-Atsuma power station, will take more than a month, Seko said earlier this week.
Hokkaido Electric engineers cannot inspect its No. 4 unit, the biggest, because it is still too hot after a fire broke out in its turbine, a company spokesman told Reuters by phone.
Depending on the damage, repairing or replacing turbines can take weeks or months.
To cover the shortage, the utility brought online by Friday afternoon two hydro-electric units at its Kyogoku plant. By November, Hokkaido Electric says it also plans to restart three oil-fired units undergoing maintenance.
It is also firing up a coal power station it planned to mothball early next year and another oil-fired station it had planned to close next year, the utility has said.
The utility will as well start testing a new gas-fired power station next month, but the spokesman said the utility was not sure the unit would be ready ahead of winter.
Hokkaido can count only on limited supplies from the main island of Honshu because of the fragmented nature of Japan's power grid.
Power demand on Hokkaido peaked at 5.25 gigawatts last winter, according to Hokkaido Electric. That compares with about 3.83 gigawatts on the day before the quake struck.
About 3.5 GW of power are now available including from the Honshu connection, said the Hokkaido Electric spokesman.
Temperatures fell to 5.9 Celsius in Asahikawa, Hokkaido's second-biggest city, on Wednesday, and averaged minus 4.3 Celsius there during December last year.
Japan's record low temperature was minus 41 Celsius in Asahikawa in 1902.