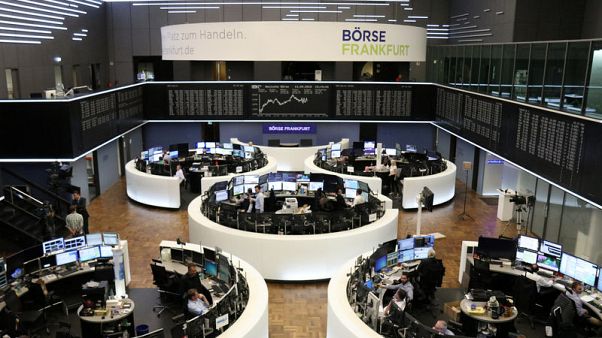 European shares fell on Thursday on anxiety over Italy's budget, with bank stocks the worst performers, also weighed on by a fall in U.S. bond yields after the Federal Reserve hiked rates again.
The leading euro zone stock index .STOXX50E slid 0.4 percent with the pan-European STOXX 600 down 0.3 percent, as investors digested a rate hike from the Fed and Italian media reports that today's budget meeting may be delayed.
Italy's FTSE MIB .FTMIB underperformed, down 1.3 percent with banks Unicredit (CRDI.MI), Banco BPM (BAMI.MI), Intesa Sanpaolo (ISP.MI), and UBI Banca (UBI.MI) the worst fallers, down 3.2 to 4.3 percent as government bonds sold off.
The Italian banks index .FTIT8300 fell 3 percent, while euro zone banks .SX7E, which have been highly sensitive to Italian budget news, fell 1.4 percent.
Investors have been concerned that Italy's budget plans could lead to a blowout of the country's deficit and put the coalition government on a collision course with the European Union.
"Besides the budgetary situation, we believe political uncertainty will remain elevated in Italy," said Societe Generale analysts.
"Given the amount of dissent between the two parties and the discontent within Five Star itself, it seems quite possible that the coalition could collapse at the time of the budget vote or just afterwards, as the disagreements could intensify once the details of the budget bill are known."
Euro zone banks' earnings forecasts have been revised down consistently over the past months as political risks mounted.
A rate rise from the Fed also weighed on European stocks which followed Wall Street lower.
In positive moves, H&M (HMb.ST) jumped 10.4 percent after the Swedish fashion retailer reassured investors it would not need to cut costs further to shift unsold clothing.
Stronger than expected margin figures helped investors shrug off a one-off hit from logistics problems.
The large amount of H&M shares being shorted by investors also makes any positive news a significant boost for the stock as short sellers are "squeezed" to unravel their position.
Weak results and broker notes caused some sharp moves lower.
Chipmaker AMS (AMS.S) fell 6.3 percent after UBS analysts cut their price target on the stock.
"Given the lack of visibility on how broadly 3D sensing will be adopted in 2019 in the Android universe, AMS's competitive positioning and the gross margin pressures that the company has faced lead us to stick with a neutral rating," they wrote.
Ambu AMBUB.CO shares fell 12.6 percent with traders citing a negative note from Nordea.
Lufthansa (LHAG.DE) shares fell 3.9 percent after Kepler Cheuvreux cut the stock to "reduce" from "hold".
Drugmaker Indivior (INDV.L) fell another 9.7 percent, adding to losses after a 16.5 percent dive on Wednesday after it slashed its revenue forecasts for its opioid addiction drug Sublocade.
IG Group (IGG.L) also sank 10 percent after the online financial trading firm said its CEO Peter Hetherington would step down immediately, the latest blow for the stock which fell sharply after weak results last week.