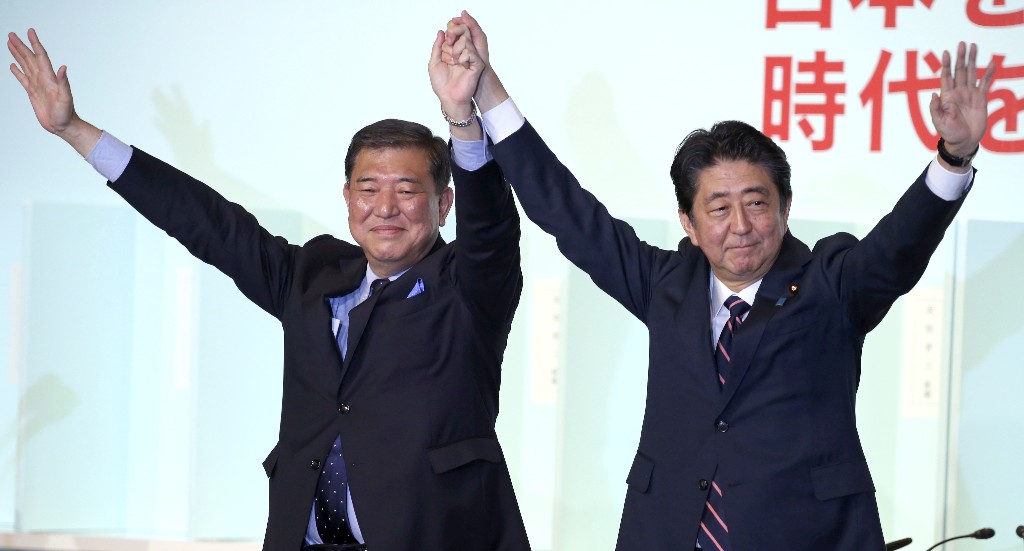 Japanese Prime Minister Shinzo Abe was re-elected as head of his ruling Liberal Democratic Party in a landslide Thursday, paving the way for up to three more years as the nation's leader.
Abe handily defeated his sole challenger, Shigeru Ishiba, a former defense minister. Abe won 553, or about 70 percent, of 807 votes.
The decisive victory may embolden Abe to pursue his long-sought revision to Japan's U.S.-drafted pacifist constitution, although the hurdles remain high and doing so would carry political risks.
"It's time to tackle a constitutional revision," Abe said in a victory speech. "Now the fight is over."
"Let's work together to make a new Japan," he added.
Abe also said he is determined to use his last term to pursue his policy goals to "sum up" Japan's postwar diplomacy to ensure peace in the country.
The 63-year-old Abe has been prime minister since December 2012. He has cemented control of his party and received support from conservatives for bringing stability and continuity to economic and diplomatic policies. With a third term as party leader, Abe is poised to become Japan's longest-serving leader in August 2021.
Abe has said he is determined to push for a revision to the U.S.-drafted 1947 constitution, a decades-old pledge of the Liberal Democratic Party since its foundation in 1955 and a goal that none of Abe's predecessors has been able to achieve.
Many conservatives see the constitution as a humiliation imposed on Japan following its World War II defeat.
While Abe won 80 percent of parliamentarian votes Thursday, support from regional rank-and-file party members was 55 percent, though it was within earlier projections.
Experts see a margin of victory in regional member votes as a more accurate indicator of general public sentiment than the parliamentarian votes. Abe's weaker showing in that segment means he will have to be more mindful of their voices in carrying out his policies.