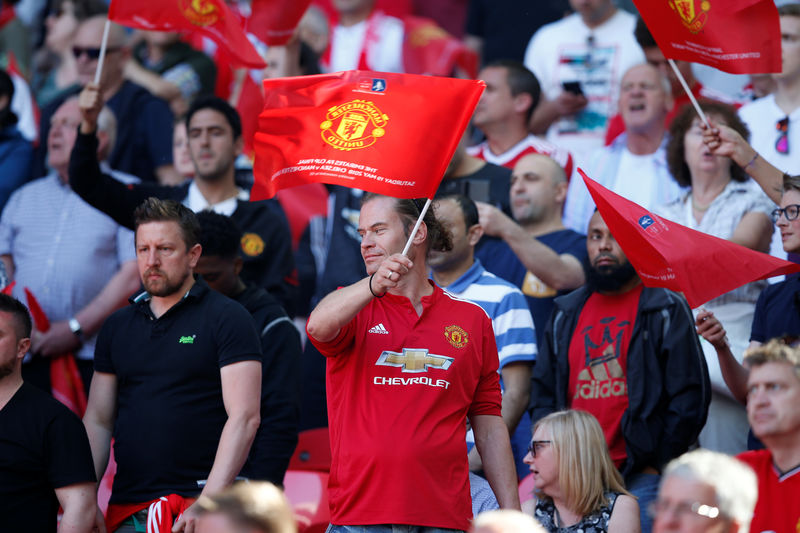 English soccer club Manchester United (MANU.N) forecast record revenue for 2018-19, despite having dropped off the early pace in the new Premier League season.
United, whose squad includes World Cup winner Paul Pogba, David de Gea and Alexis Sanchez, said revenue is expected to be between 615 million pounds and 630 million pounds in the year to next June.
Its revenue for 2017-18 also came in at a record 590 million pounds ($775.4 million) despite a slowdown in the fourth-quarter, due to a dip in commercial and broadcasting revenue.
"Our increased revenue expectation for the year demonstrates our continued strong long-term financial performance which underpins everything we do and allows us to compete for top talent in an increasingly competitive transfer market," Executive Vice Chairman Ed Woodward said in a statement.
There have been media reports of behind-the-scenes discord between Woodward and team manager Jose Mourinho, over the club's recruitment policy.
Revenue for the three months ended June 30 fell 16 percent to 147.6 million pounds, as United's failure to progress beyond the round-of-16 in the lucrative UEFA Champions League contrasted with the previous year, when they won the second-tier Europa League.
The club is currently seventh in the English Premier League, eight points behind early leaders Liverpool and six behind cross-town rivals and reigning champions Manchester City.
City, owned by Arab billionaire Sheikh Mansour bin Zayed Al Nahyan, won the league with a 19-point margin over United last season and is now looking to close the gap on the 'Red Devils' off the pitch as well.
Earlier this month, it posted revenue of 500.5 million pounds and profit of 10.4 million pounds for the year ended June 30.
United's adjusted earnings before interest, tax, depreciation and amortization (EBITDA) for the year are expected to be between 175 million pounds and 190 million pounds compared with 177.1 million pounds reported for 2017-18.