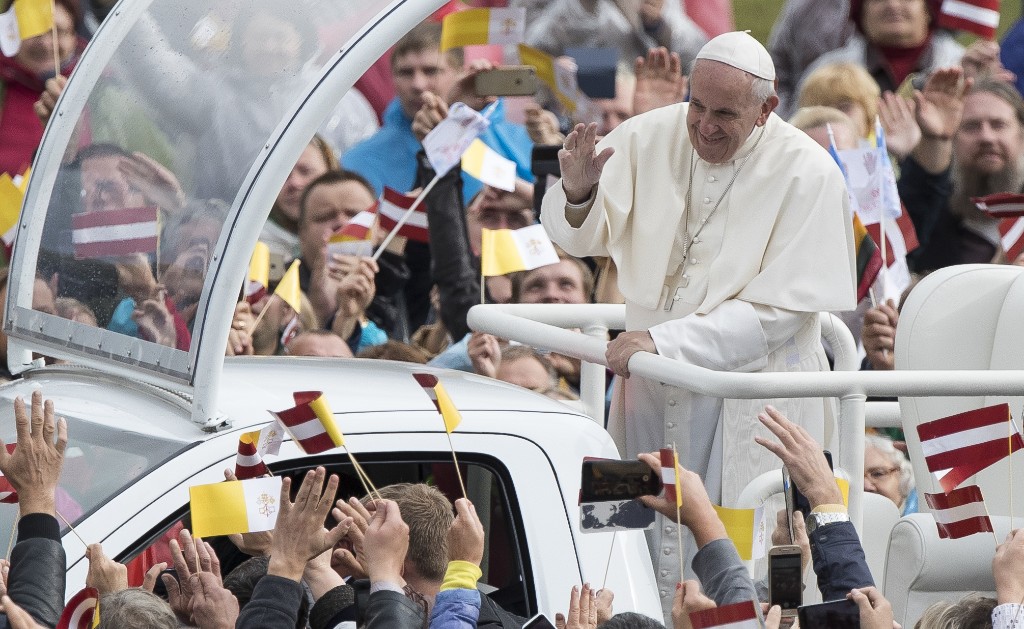 Pope Francis praised Latvians on Monday for resisting Soviet and Nazi occupation and persevering in their Christian faith, telling them: "You fought the good fight, you ran the race, you kept the faith."
On the third day of his Baltic pilgrimage, Francis traveled to Latvia and placed flowers at the monument to Latvian independence. He joined Lutheran and Orthodox leaders at a music-filled ecumenical prayer in Riga's towering Lutheran Rigas Doms cathedral, where choirs of young girls alternated with chanting ministers and were accompanied by the cathedral's famous organ, one of the oldest and largest in Europe.
Meeting with a group of elderly Latvians at the city's Catholic cathedral, Francis acknowledged the many trials they endured during the 20th century: two Soviet occupations and the World War II-era occupation by Nazi Germany.
"Yet you remained steadfast; you persevered in faith. Neither the Nazi regime, nor the Soviet regime could extinguish the faith in your hearts," he said. "You fought the good fight; you ran the race, you kept the faith."
In his arrival speech to Latvian President Raimonds Vejonis, Francis praised the Christian spirit that enabled the country to endure.
"You know all too well the price of that freedom, which you have had to win over and over again," he said. He praised the cooperation among different Christian churches that he said "shows that it is possible to build communion within differences."
Latvia's population of some 2 million is about a quarter Lutheran, with Catholic and Orthodox minorities.
Later Monday, Francis was heading to the Catholic shrine at Aglona, near Latvia's eastern border with Russia, that is a draw for the faithful across the region.
Francis is visiting Lithuania, Latvia and Estonia to mark their 100th anniversaries of independence and to encourage the faith in the Baltics, which saw five decades of Soviet-imposed religious repression and state-sponsored atheism. In addition, the Nazi occupation nearly exterminated their Jewish populations.
Francis on Sunday paid equal tribute to the partisans who fought the Soviets in Lithuania, as well as the Jewish community as it marked the 75th anniversary of the final destruction of the ghetto in the capital Vilnius.