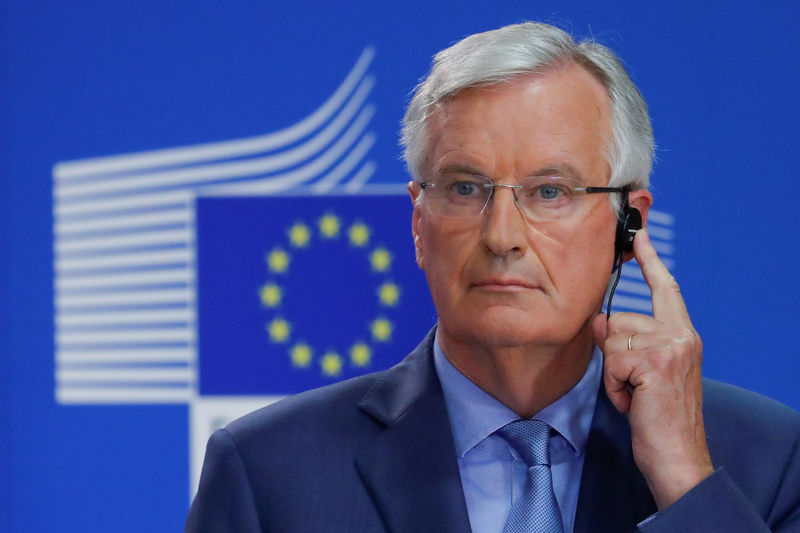 A cautious comment by the EU Brexit negotiator that there could be a deal by November if unrealistic demands are taken off the table boosted sterling on Monday amid new optimism among investors.
Reports that Michel Barnier had told a public forum in Slovenia that it was "realistic" to expect a deal in six to eight weeks helped send the British currency to a five-week high of $1.3052, up around 1 percent on the day, rising also around 0.3 percent against the euro.
"Michel Barnier … said realistically we can expect to reach the Brexit agreement in the next 6-8 weeks," the British embassy in Slovenia said from the forum in Bled.
However, what Barnier actually did was to repeat a standard recent line that if negotiators — meaning particularly Prime Minister Theresa May's government — compromise further, then it would be possible to complete divorce terms on schedule.
"I think that if we are realistic, we are able to reach an agreement on the first stage of the negotiation, which is the Brexit treaty, within six or eight weeks," he said.
"Taking into account the time necessary for the ratification process … we must reach an agreement before the beginning of November. I think it is possible."
But, he said, a major sticking point remains managing the Irish border, where Brussels has said London's proposals to avoid undermining either peace in Northern Ireland or the EU's single market regulations have so far been unrealistic.
The pound slid back in late afternoon to stand 0.77 percent higher on the dollar.
Barnier has regularly said that he wants a deal by November to ensure parliamentary ratification by March, when Britain must leave, with or without a deal. He has routinely said that this timetable is a realistic one if negotiators find compromises.
He stressed He was neither optimistic nor pessimistic.
Currency traders have interpreted other Barnier comments this month as indicating a diminishing chance of Britain crashing out of the EU without a deal to clarify legal issues, although EU officials and diplomats have echoed his public comments that there remain major differences on Ireland.
May is under attack from members of her own party over her proposals for a separate declaration on how trade would work in future after a 21-month status-quo transition period. EU officials say that raises a risk that May could struggle to win parliamentary backing for any deal.
For that reason, they expect EU leaders to go on trying to be helpful to May's cause, including by offering conciliatory messages when they meet her next Thursday at a summit in Austria. However, few diplomats see significant signs of a softening in the EU line on future trade or Ireland.
Few expect the next Brussels summit on Oct. 18-19 to see a breakthrough and talks are under way among EU governments to set a special Brexit summit for mid-November.
Some EU officials say a deal with Britain in December, even January, could leave just about enough time to ratify by March. Some EU diplomats also speak of Britain asking to prolong the talks beyond the current exit date of March 29, despite huge opposition to such an idea from many of May's supporters.