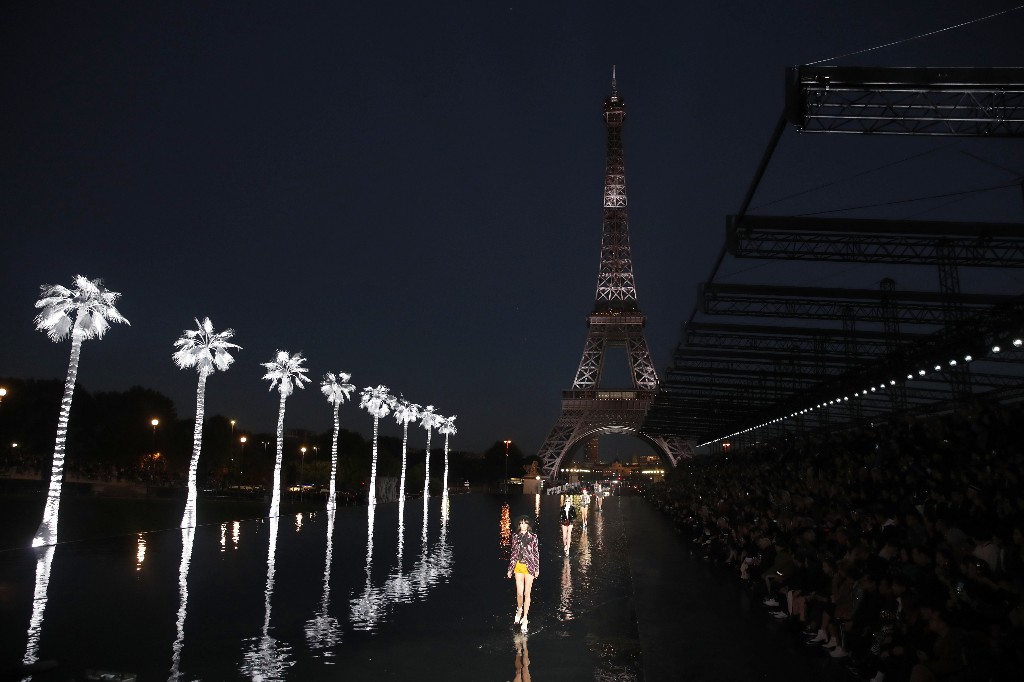 With a powerful front row of stars, Saint Laurent headlined the second day of Paris Fashion Week in an eclectic French twist on American styles that featured models walking on water.
Tuesday's spring-summer collections also showcased emerging talents: from 26-year-old designer Marine Serre to the Tokyo-based house Anrealage.
Stars such as Kate Moss, Cindy Crawford, Matt Dillon and Salma Hayek huddled together in front of 10 giant white palm trees as the Eiffel Tower sparkled at the stroke of 8 p.m.
Below the trees was a giant expanse of water.
Models in luxury snake boots and sparkling disco heels suddenly appeared and — forgoing the dry catwalk strip — darted sideward to walk straight across the water.
It triggered gasps from spectators, including a tardy Lindsay Lohan.
But behold, the models didn't sink. Instead, they merely sloshed and splashed.
Designer Anthony Vaccarello was applauded for an impressive biblical-style trompe l'oeil feature for the 15-minute show that created the illusion of a sea despite the water measuring only 2 centimeters (less than an inch) in depth.
One American fashion editor duly commented that designers are "ruining a lot of perfectly good shoes with these water effects this season."
The palm trees, the water and structured swimsuits seemed to point to Malibu or Saint Tropez.
Python boots, silver open-shirts, leather chap-like shorts and hats with chin toggles seemed to lead the eye to the U.S. Midwest.
Then, menswear tuxedos, boyish silhouettes, glam rock boots and silk multicolored jabot collars evoked the excesses of Studio 54 in its 1970s heyday when Yves Saint Laurent was a guest.
This was what Vaccarello described as a collection with "different personalities."
"It's a silhouette created by a variety of pieces, inspired by different eras and timeless icons. Eclecticism is freedom," Vaccarello said.
But like the water that splashed in every direction on the runway, this display splashed around its references and was ultimately hard to pin down.
The more eye-catching designs— like a plunging V-neck blue and red minidress — though nothing new, are likely to continue the it-brand's buoyant sales.
The new darling wunderkind of Paris Fashion Week, Marine Serre presented her second ready-to-wear show on Tuesday.
It's been a meteoric rise since the French designer from Correze at the age of 25 won the coveted LVMH fashion award last year — presented to her by Rihanna.
The designer has said her style is "combining and absorbing codes from radically different worlds" while ignoring traditional "boundaries between ready-to-wear, couture, tailoring and sportswear."
Mixing up all of this, the crisp outdoor spring show was predictably fashion-forward as prints met sportswear.
Skintight cycling-style silhouettes and sheeny elastic materials gave this collection an active feel that ran throughout.
One model in shades and white sneakers, who clearly had to juggle looking fabulous and being a mother, had a real-life child strapped to her chest — held in place by a buckle.
There were some highly creative moments in the silhouette, as seen in surreally large tubular sleeves.
But there was also a lot of fun zaniness.
Astronaut uniforms followed fanny packs, sheer anoraks, sheath dresses with colorful Latin flounces and a spherical clutch bag that looked like a bomb.The art of the chic invite is still very much a staple of Paris fashion.
Houses compete to produce the most eye-catching, inventive and flamboyant show invitations delivered often by gas-guzzling courier to each guest's personal or professional address with little thought to ecology. (Other "greener" global fashion weeks now prefer to send their invitations via e(co)mail.)
The little works of art sometimes provide a hint as to what the collection has in store. Often, they are just plain wacky.
Gucci's "invite" was an ode to the spring and was stapled on a plastic bag full of garden bulbs and seeds — such as tulip and hyacinth that were ready for planting in a field. It came with a disclaimer: "Gucci is not professionally engaged in the market of bulbs."
Jacquemus' invite was a giant hessian tote bag with thick rope-like straps.
And Courreges' was a trendy white nylon bag scrunched into a camping-style toggle pouch with the show information inside.
Women seen as crystalline forms.
That was the vision used by designer Kunihiko Morinaga to produce a highly original collection Tuesday.
Organic shapes — sometimes resembling glistening fish scales, underground crystals or regal jewels — were the leitmotif on models that looked as if they had been mined from the earth.
Women wore bejeweled head cages — that evoked both Asia's imperial past and some sort of futuristic fembot. One sported a crisscross over the face, and evoked Princess Amidala from Star Wars.
Though the silhouettes seemed secondary to the embellishments, they were notable.
Beautiful skirt suit hybrids, geometric shoulders and peplums followed a silvery fishlike shawl top that was gathered at the midriff.
The fashion-forward house of Tokyo-based Morinaga has built up a huge fan base in Japan for its intellectual designs and original use of techno-fabrics.