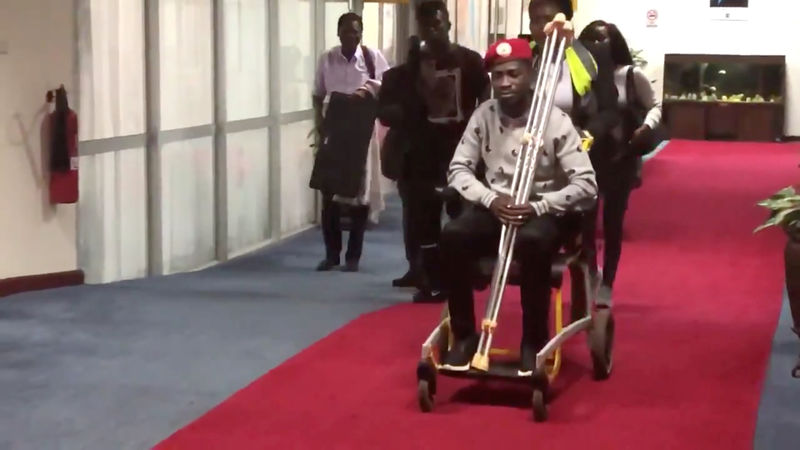 Security forces sealed off roads and erected barricades around Uganda's main international airport on Thursday ahead of the expected return of a lawmaker critical of President Yoweri Museveni.
Robert Kyagulanyi, a 36-year old pop star and reggae musician turned legislator, is widely seen as posing a significant challenge to Museveni, who has ruled since 1986.
His message — that young Ugandans need a dynamic new head of state to tackle the myriad problems they face — has electrified citizens who say they are fed up with corruption, unemployment, and state repression of dissent.
The government denies allegations of corruption and of stifling opposition.
On Thursday, helicopters were seen above Entebbe International Airport southwest of the capital Kampala.
A day authorities banned rallies to welcome Kyagulanyi home from the United States, where he received treatment for injuries he said were sustained last month during what he says as torture by security forces. They deny the accusation. 
Kyagulanyi – also known as Bobi Wine – said on Twitter on Wednesday that he was "headed home" and showed a picture of himself at an airport holding a walking stick.
He also criticized authorities for announcing that they would prevent people aside from his immediate family members from meeting him at the airport.
"I am a free Ugandan with the right to move freely in my country. The police has no business telling me who receives me…" he wrote.
Witnesses said the road linking Kampala to Entebbe town about 50 km (30 miles) further south was cordoned off, with armed police surrounding the airport. They also said that all vehicles leaving the capital on the road to Entebbe were checked at multiple roadblocks.
Police prevented journalists from traveling toward the airport to covering the lawmaker's arrival.
A relative of Kyagulanyi was arrested on Thursday morning at a roadblock on the road from Kampala to the airport. Police spokesman Patrick Onyango said he was not aware of the man's arrest.
Kyagulanyi attracted a youth following through songs critical of the president and his prominence rose due to an incident in August in which his driver was shot dead and he was detained and charged with treason over what authorities said was the stoning of Museveni's convoy.
The lawmaker, who has pleaded not guilty to treason charges, said he was beaten with an iron bar in detention in northern Uganda. The government denies that he was mistreated.