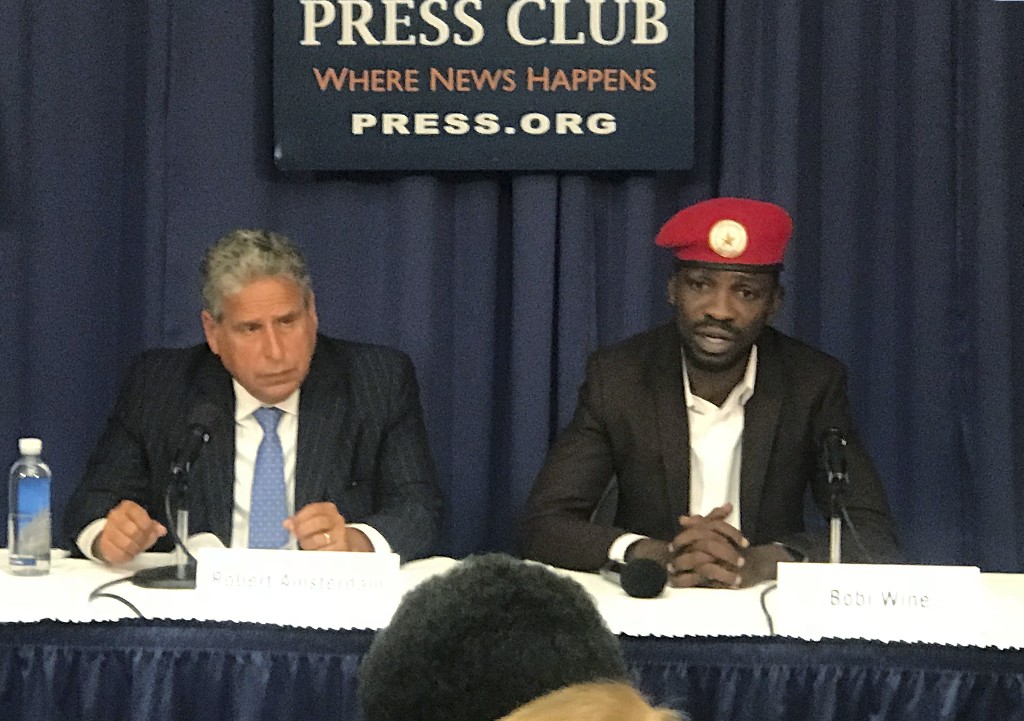 Ugandan pop star-turned-lawmaker Bobi Wine said on Thursday he would return to Uganda to continue his struggle on behalf of "the oppressed" after allegedly being tortured by members of the presidential guard.
Wine, whose real name is Kyagulanyi Ssentamu, became emotional in his first news conference since arriving in the U.S. for specialized care as he recalled people like his driver who he said had "paid the price."
Ssentamu's driver, Yasin Kawuma, was shot dead on Aug. 13 following an incident in which the president's motorcade was pelted with stones. The next day Ssentamu himself was arrested and detained for several days during which he alleges his testicles were squeezed and a kidney was injured as soldiers beat him repeatedly.
Speaking at the National Press Club in Washington, Ssentamu said he got "injections that I don't know about" and that the skin on his hands keeps peeling off.
"All I know is I am still alive as of now," he said.
Ugandan authorities vehemently deny the torture allegations.
Ssentamu and over 30 others have been charged with treason for their alleged roles in the stone attack on the president's motorcade, allegations that raised political tensions in this East African country that has been led by the same president for 32 years.
Ssentamu's arrest sparked protests in Kampala by supporters demanding his release, with scores of people detained, and a social media campaign to #FreeBobiWine was launched. Dozens of top international musicians, including Angelique Kidjo and Chris Martin, signed a letter demanding his release.
Ssentamu, who was a successful singer in Uganda before he won a seat in the national assembly last year, has emerged as a powerful opposition voice among young people frustrated by President Yoweri Museveni, especially after the constitution was changed last year to remove an age limit on the presidency.
Asked Thursday about what he expects other Ugandan activists to do, he said simply: "I want you to stand with the oppressed, not the oppresser."
Museveni, who took power by force in 1986, is a U.S. ally on regional security. In 2007 he deployed Ugandan troops to help fight al-Qaida-linked Islamic extremists in Somalia, one reason many Ugandans believe Western powers are reluctant to criticize his human rights record at home.
"The fact is American arms and American equipment have been used to torture Ugandans," Robert Amsterdam, Ssentamu's U.S.-based lawyer, told reporters. "We call on the U.S. government to immediately suspend military funding to Uganda, launch an investigation immediately into the use of U.S. equipment to torture Ugandan citizens."
Amsterdam said he would seek the application of a U.S. law under which individuals anywhere in the world can be targeted with sanctions for committing human rights violations.
"We are compiling a list under the Magnitsky Act," he said. "Ugandan torturers beware. Your ability to travel, your ability to hold assets abroad may well be put at risk by your continuing to participate in a special squad of torturers."
In recent years Ugandan forces have been accused by opposition politicians of harassing and torturing perceived opponents, and Museveni himself is accused of wanting to rule for life.
Museveni, who is 74, is now able to seek re-election in 2021 because parliament passed legislation last year removing a clause in the constitution that had prevented anyone over 75 from holding the presidency. Security personnel entered the parliamentary chamber and roughed up opposition lawmakers, including Ssentamu, who had been trying to delay a vote on that legislation.
Museveni has accused Ssentamu and other opposition figures of luring young people into rioting.
"Pseudo-democrats, be informed that the game of trying to hijack our democracy by fascists and foreign agents is over," Museveni said in a statement recently. "We shall not tolerate any threats by words or by actions. Enough is enough."