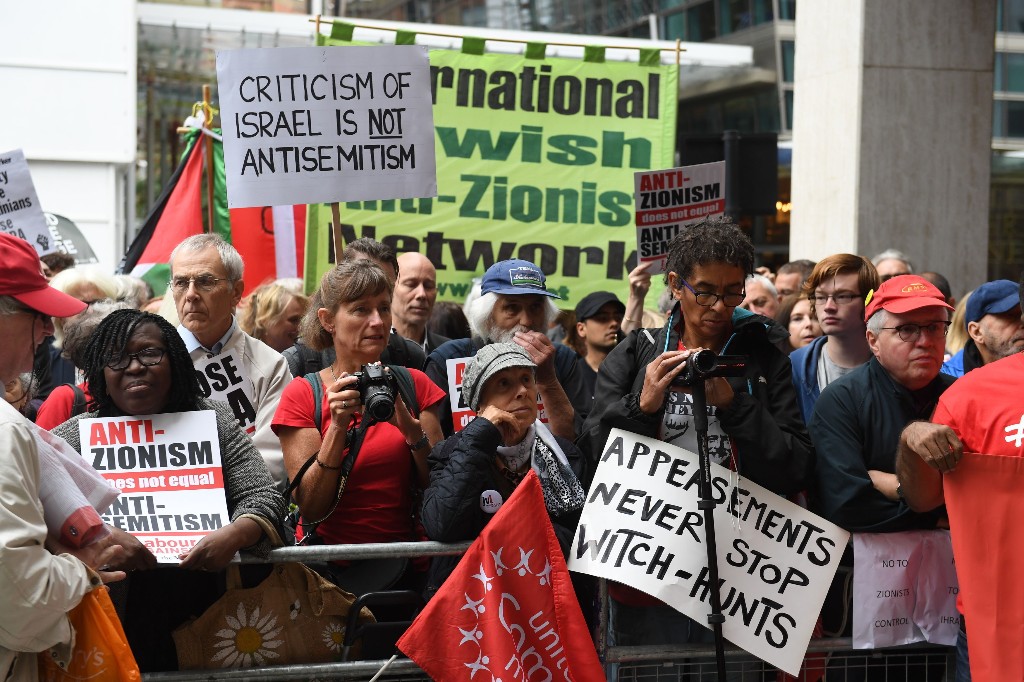 The governing body of Britain's main opposition Labour Party met Tuesday in an attempt to defuse a crisis over anti-Semitism that has caused a schism within its ranks.
Rival groups of protesters gathered outside Labour's London headquarters, as the party's National Executive Committee debated whether to adopt a definition of anti-Semitism approved by the International Holocaust Remembrance Alliance.
Labour's adoption earlier this year of a more limited definition — omitting some of the alliance's language around criticism of Israel — renewed claims that the left-of-center party has become hostile to Jews under leader Jeremy Corbyn, a longtime supporter of the Palestinians.
Corbyn says anti-Semitism has no place in the Labour Party, but some members think he has failed to stamp out anti-Jewish prejudice. Last week, veteran lawmaker Frank Field quit Labour's grouping in Parliament, saying the party had become a "force for anti-Semitism."
Corbyn has been accused of failing to expel party members who express anti-Semitic views and has received personal criticism for past statements, including a 2010 speech in which he compared Israel's blockade of Gaza to Nazi Germany's sieges of Leningrad and Stalingrad during World War II.
Critics have also condemned him for attending a 2014 wreath-laying to Palestinians whom Israel has linked to the murder of 11 Israelis at the 1972 Munich Olympics.
Corbyn supporters accuse political opponents and right-wing media outlets of misrepresenting the leader's views.
Emotions ran high outside Tuesday's meeting, where rival groups of demonstrators shouted chants for and against Corbyn. Anti-Corbyn protesters held signs altering the party's slogan "For the many, not the few" to "Labour: For the many, not the Jew." The opposing group insisted that "Anti-Zionism is not anti-Semitism."