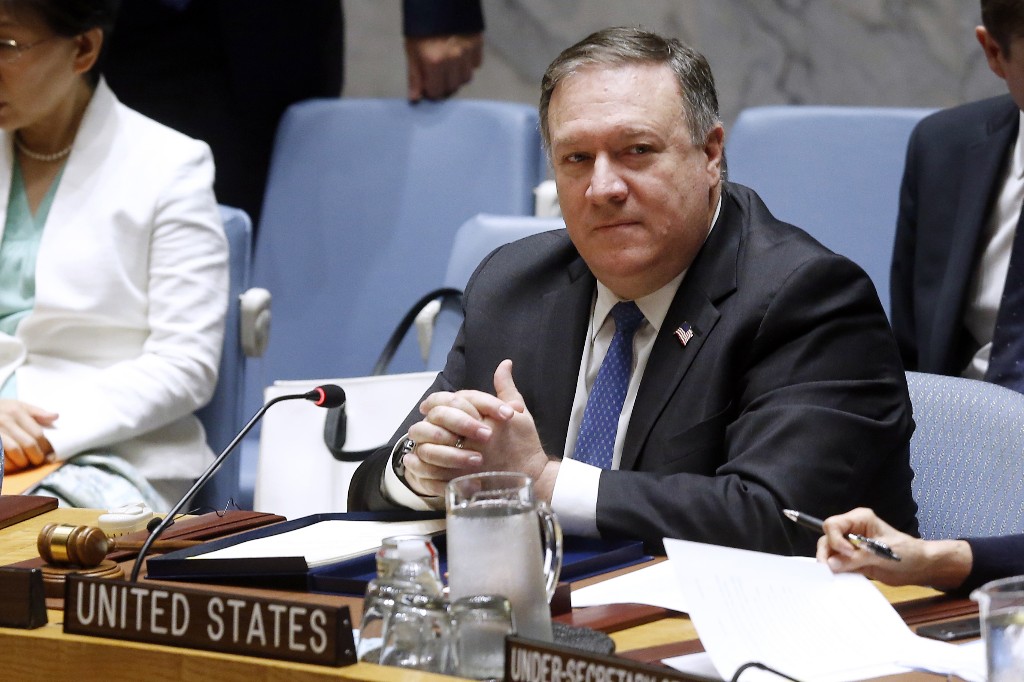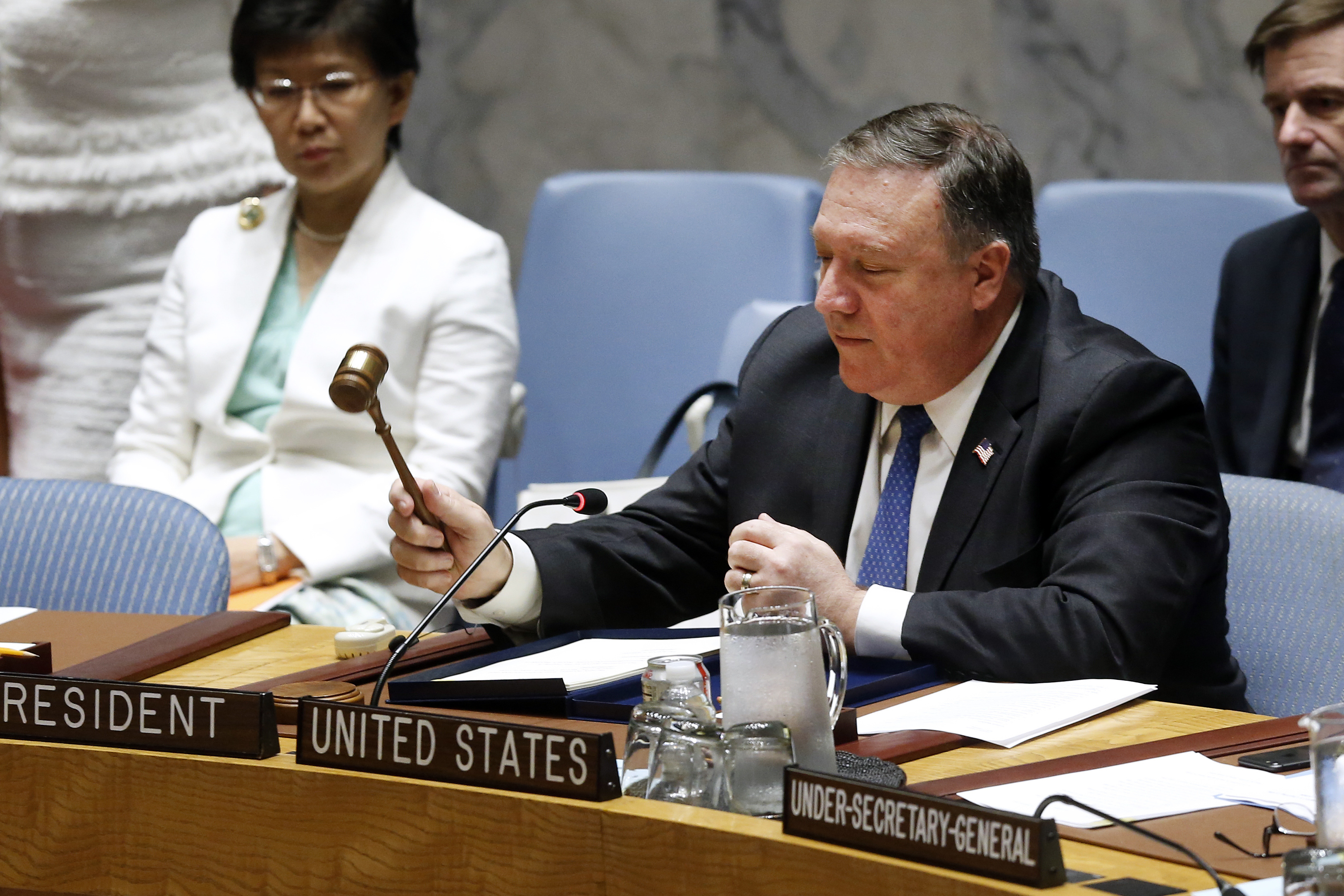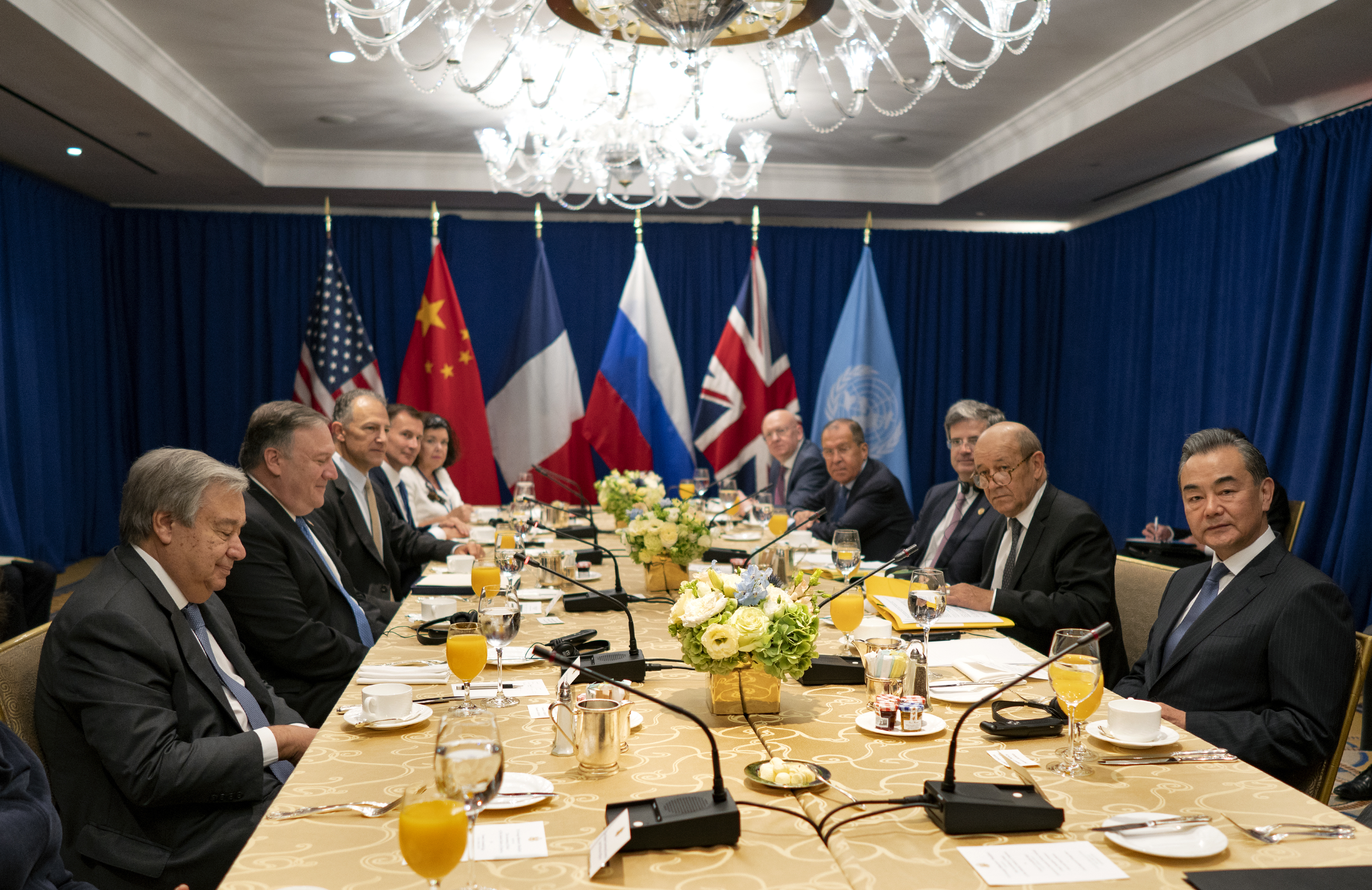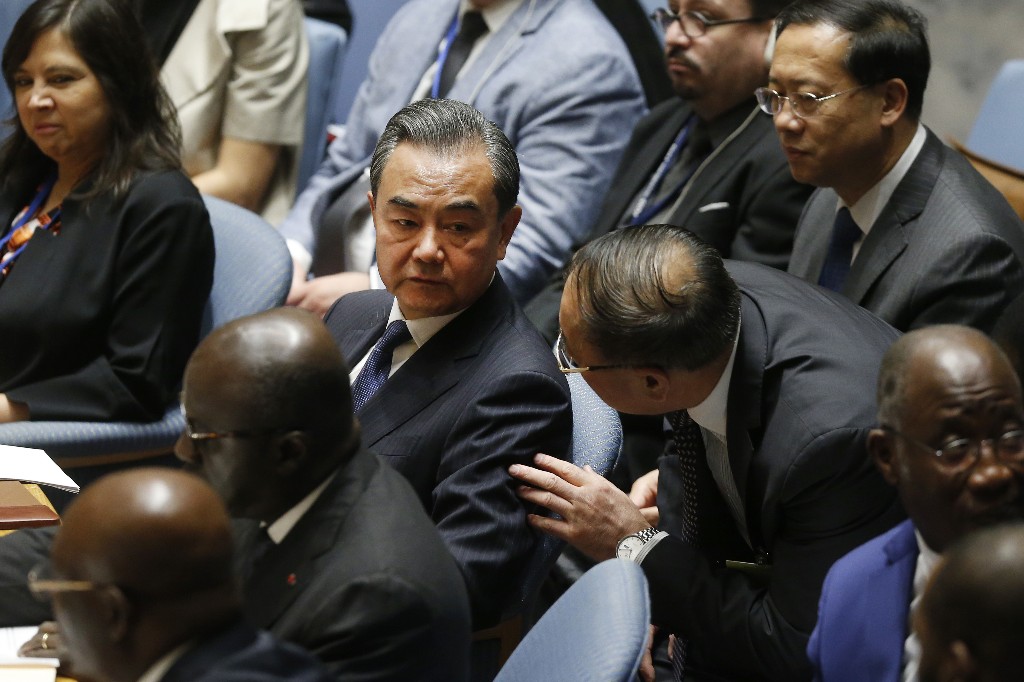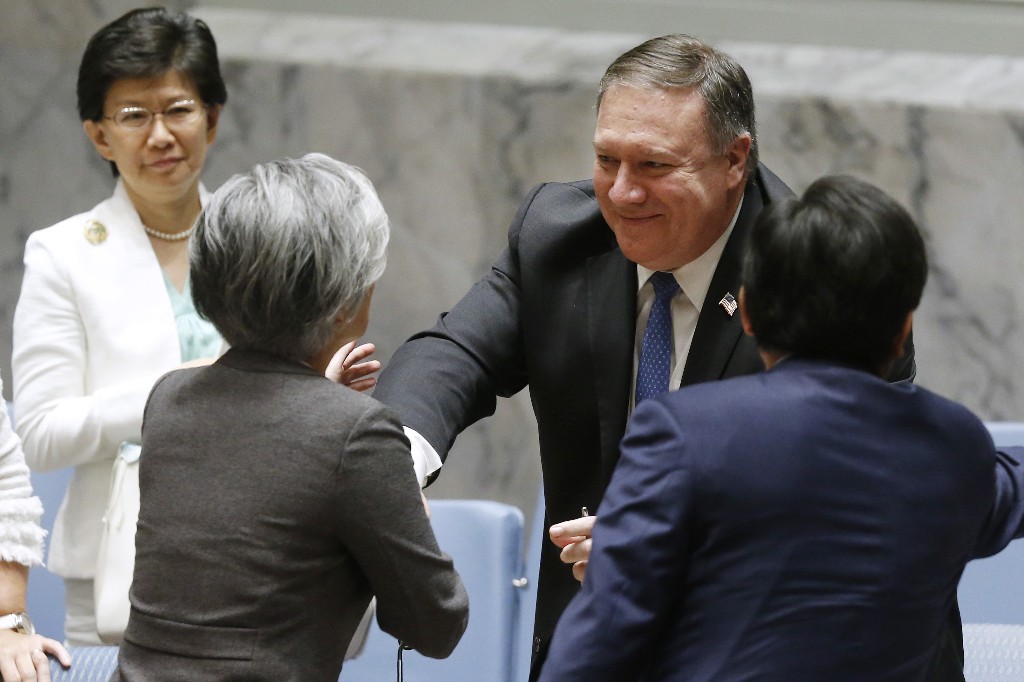 Secretary of State Mike Pompeo said Thursday that the world stands at the "dawn of a new day" in relations with North Korea but that international sanctions must remain in place and vigorously enforced if diplomatic efforts to get the country to denuclearize are to succeed — a position that faced resistance from China and Russia.
Chairing a special session of the U.N. Security Council, Pompeo said President Donald Trump's diplomatic breakthrough with North Korean leader Kim Jong Un has led to a point where the nuclear threat from the country can be resolved. But the "unprecedented diplomatic opening" would close unless the pressure from sanctions is kept up.
"Until the final denuclearization of the DPRK is achieved and fully verified, it is our solemn collective responsibility to fully implement all U.N. Security Council resolutions pertaining to North Korea," he said, using the initials for the country's formal name, the Democratic People's Republic of Korea.
Pompeo said the U.S. has evidence that U.N. sanctions, particularly those restricting North Korean oil imports and coal exports, are being violated and he demanded that U.N. members ensure they are respected.
"Enforcement of U.N. Security Council sanctions must continue vigorously and without fail until we realize final, fully verified denuclearization," Pompeo said.
China's Foreign Minister Wang Yi, whose country is North Korea's main ally, agreed that the sanctions "remain valid," but he said the resolutions provide for them to be modified based on North Korea's compliance and the council should consider doing so.
"China believes that the Security Council may consider invoking in due course this provision in order to encourage (North Korea) and other relevant parties to move denuclearization further ahead," he said.
Russian Foreign Minister Sergey Lavrov said Moscow believes that it's "very important" for the Security Council to regularly discuss "whether it's advisable to review various restrictions against DPRK as it moves towards giving up its nuclear weapons."
He stressed that negotiations are "a two-way street" and steps by the DPRK toward gradual disarmament "should be followed by easing of sanctions."
The Security Council must not become "a hindrance" to dialogue between the two Koreas, Lavrov said, and he suggested that the council committee monitoring sanctions against the DPRK should consider applications for exemptions from sanctions "to carry out projects of inter-Korean cooperation which Pyongyang and Seoul have agreed to."
Lavrov criticized Western nations for "stubbornly" ruling out any positive signal from the Security Council on the positive steps taken by Pyongyang so far. He said Russia will circulate a council resolution that would have the council "send a clear signal in support of the positive momentum on the situation around the Korean peninsula."
China and Russia also said they share with North and South Korea a desire to produce a document that would declare an end to the Korean War, which ended with an armistice and not a formal peace treaty.
The Trump administration has balked at signing such a declaration without significant progress on denuclearization, such as North Korea submitting a complete inventory of its nuclear and ballistic missile facilities that could be used by international inspectors to verify they have been dismantled.
Pompeo, who met on Wednesday with North Korea's foreign minister, will make a third trip to North Korea next month to set the stage for a second summit between Kim and Trump, who met in Singapore in June.
China's Wang said "the recent positive developments on the peninsula are exactly what China has been working for over the years.
He stressed that peace on the peninsula is essentially about security and "the key is to address the legitimate security concerns of all parties in an appropriate and balanced manner."
Trump, Pompeo and other U.S. officials have repeatedly reported progress in the denuclearization discussions with the North, but there has been little visible evidence of that to date.
Although North Korea has suspended nuclear and missile testing and has taken some steps to dismantle affiliated facilities, it has continued to develop missiles and has made no public show of taking down its nuclear weapons development.