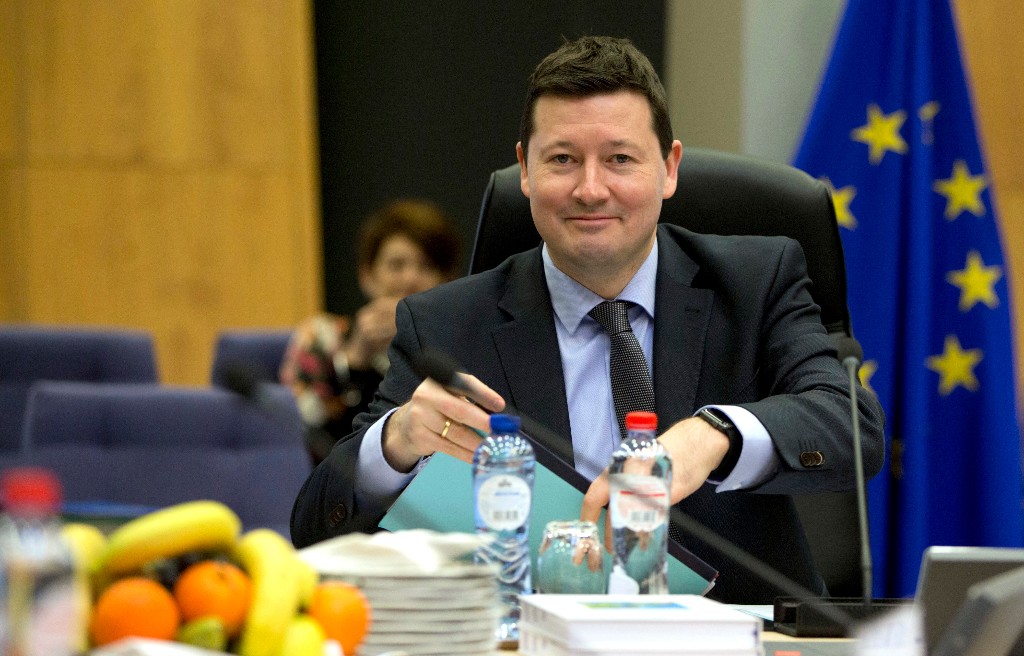 The European Union's official transparency watchdog said Tuesday that the EU's powerful executive Commission put public trust at risk by fast-tracking the appointment of a protege of its president, Jean-Claude Juncker, to a top job.
Martin Selmayr, Juncker's former head of Cabinet, was appointed secretary-general in February at a meeting that saw him promoted twice within minutes.
Even EU commissioners — who are responsible for policy files ranging from the economy to trade, the environment and energy — publicly admitted surprise at the speed with which the nomination was handled. Many weren't aware that the promotion was planned in advance, by Juncker himself.
Accusing the European Commission of "maladministration," European Ombudsman Emily O'Reilly said that the way the appointment was handled "risked jeopardizing the hard won record of high EU administrative standards and consequently, the public trust."
"It is extraordinary that no commissioner seemed to question the secretary-general appointment procedure, which in the end raised valid widespread concerns." she said.
O'Reilly didn't say the move was illegal or question Selmayr's suitability for the post.
Selmayr now runs the European Commission — which has around 33,000 employees and whose commissioners are appointed, not elected — and so wields strong influence over the EU's agenda and policy priorities. Juncker, who is of ailing health, stood by Selmayr when news of the appointment procedure became public and vowed to quit himself before he would ever try to force his protege out.
O'Reilly urged the commission to develop a specific and separate appointment procedure for appointing the secretary-general to avoid a repeat in future.
The commission, meanwhile, said it "has a different factual assessment" of parts of the ombudsman's report.
The commissioner responsible for human resources, Guenther Oettinger, said he looked forward to discussing with other EU institutions "how the application of the current rules and procedures can be improved in the future." A meeting has been scheduled for Sept. 25, he said.
The nature of the appointment, exposed by French newspaper Liberation, raised deep concerns because the European Commission is the guardian of the EU's treaties and the arbiter of the bloc's democratic standards yet stands accused of bending its own rules.
For example, the commission has launched a rule of law procedure against Poland for changes made by the new government there that Brussels believes undermine the independence of the courts and justice system. It's locked in a similar battle with Hungary. Both countries say — like the commission in this case — that they are following the letter of the law.
Part of the reason that Britons voted to leave the 28-nation bloc next year was the perception that unelected, unaccountable, well-heeled bureaucrats in Brussels were stitching up backroom deals against the interests of citizens and with the aim of enriching themselves. Regardless of his competence, Selmayr's nomination embodies the concerns of many euroskeptics.