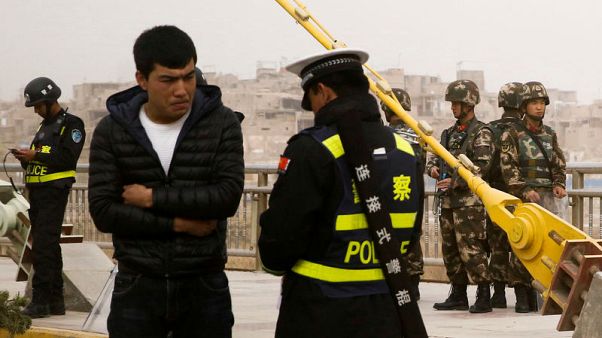 Vocational training is being used "to the greatest extent" in China's far-western Xinjiang region to ensure militant activities are "eliminated before they occur," a senior Communist Party official said.
The state media interview with Shohrat Zakir, the number two party official and most senior ethnic Uighur in Xinjiang, is China's most detailed defence yet of its policies in the region, which is home to a large Muslim population.
Reports of mass detentions and strict surveillance of ethnic Uighurs and other Muslims have prompted the United States to consider sanctions against officials and companies linked to allegations of human rights abuses.
Chinese officials have denied enforcing arbitrary detention and political re-education across a network of secret camps, instead saying that some citizens guilty of minor offences were sent to vocational centres to provide employment opportunities.
The measures had helped to prevent violent militant attacks in Xinjiang for the past 21 months, Zakir said in an interview published by the Xinhua news agency.
Trainees signed "education agreements" to receive "concentrated training" and undergo "live-in study," Zakir said.
They received Chinese language lessons and lectures on the country's constitution and laws, he said. Skills training included food processing, assembling electronic products, hairdressing, clothes making and e-commerce.
"Through vocational training, most trainees have been able to reflect on their mistakes and see clearly the essence and harm of terrorism and religious extremism," Zakir was quoted as saying.
"They have also been able to better tell right from wrong and resist the infiltration of extremist thought," he said.
Beijing has faced an outcry from activists, scholars, foreign governments and U.N. rights experts over what they say are mass detentions and strict surveillance of the mostly Muslim Uighur minority and other Muslim groups who call Xinjiang home.
Human rights groups and former detainees have said that conditions in the camps are poor, with inmates subject to psychological and physical abuse.
In response, Beijing has mounted a sophisticated counterattack to criticism of its policies in Xinjiang, courting foreign media and running opinion pieces abroad as its seeks to spin a more positive message.
China says Xinjiang faces a threat from Islamist militants and separatists. It rejects all accusations of mistreatment in an area where hundreds have been killed in unrest between Uighurs and members of the ethnic Han Chinese majority.
The interview with Zakir comes a week after Xinjiang inserted into its anti-extremism regulations new clauses that prescribe the use of "vocational training centres" to "educate and transform" people influenced by extremism. Rights groups saw an attempt to retrospectively legitimise the practice.