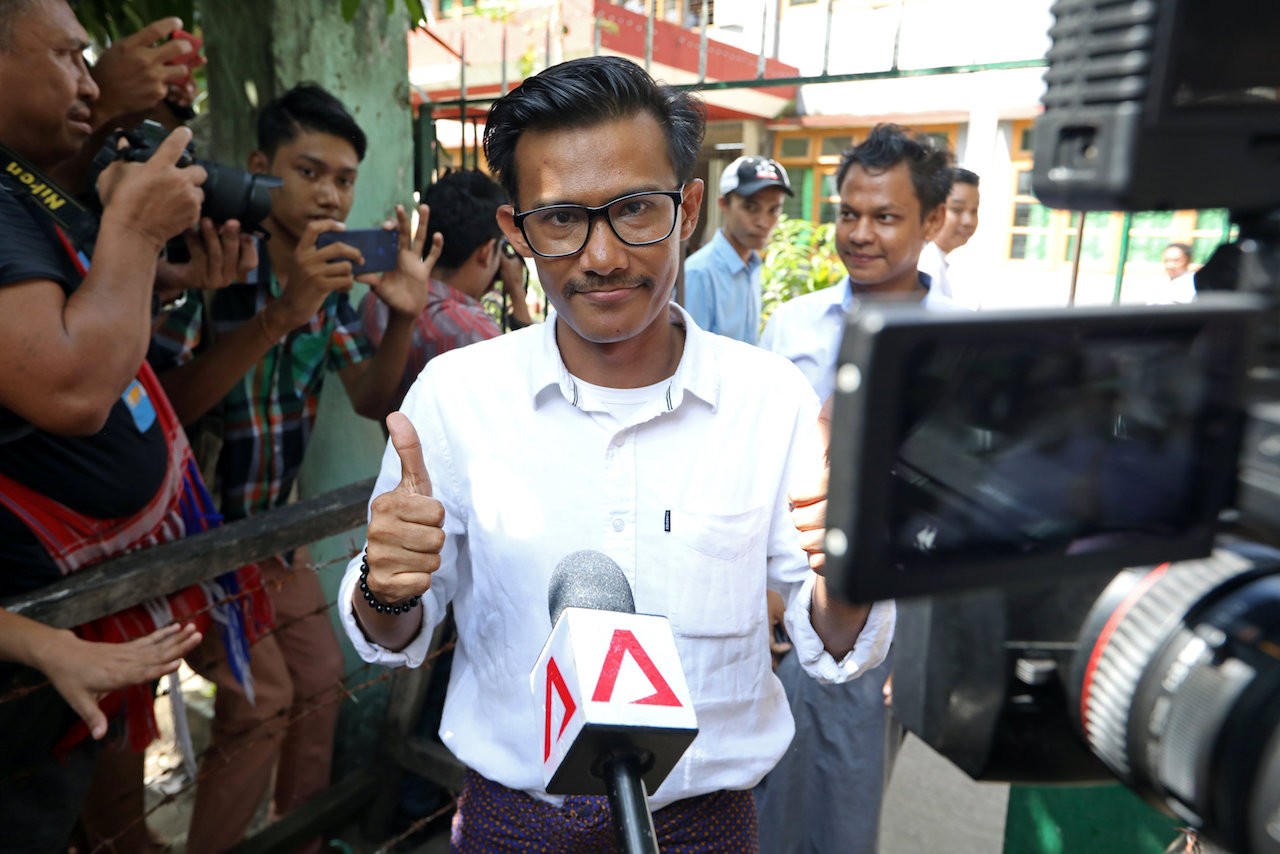 A Myanmar judge on Friday freed on bail three journalists from the country's largest private newspaper detained on incitement charges after publishing an article that raised questions over government spending.
Eleven Media's chief reporter, Phyo Wai Win, and two editors, Kyaw Zaw Lin and Nayi Min, were arrested on Oct. 10 following a complaint by the regional government in the commercial capital of Yangon.
Their detention, in Insein prison on the outskirts of the city, marked the latest blow to press freedom in the country, where dozens of journalists have been prosecuted in recent months.
"As a reporter, I wrote my articles based on true information," said Phyo Wai Win, as he walked free from the crowded courtroom in central Yangon's Tamwe township on Friday. The next hearing has been scheduled for Nov. 9.
Explaining her decision to grant bail, judge Tin War War Thein told the court the journalists did not pose a flight risk.
"The punishment for the section is not a life sentence but two years maximum, and the accused are working at a journal based in Tamwe township, so they have no reason to run away," she said.
The trio are facing charges under Section 505 (b) of the country's colonial-era penal code, which prohibits publishing information that may "cause fear or alarm", that could cause someone to commit an offense, or disrupt "public tranquility". The charges carry a maximum penalty of two years in prison.
Days before their arrest, they had published a story that included quotes from lawmakers questioning the city's use of funds, including the overhaul of transport.
Yangon's regional government is headed by Chief Minister Phyo Min Thein, a protégé of Myanmar's civilian leader Aung San Suu Kyi and a member of her National League for Democracy party.
Last week, media reported, Myanmar President Win Myint ordered regional authorities to try to settle the dispute through negotiations with Myanmar's Press Council, which has said the case must be dismissed before talks can start.
"According to that instruction, the Yangon regional government should have dismissed the case today," said defense lawyer Kyee Myint.
The chief minister's assistant, Maung Maung Kyi, did not answer phone calls on Friday. Government spokesman Zaw Htay also could not be reached for comment. He recently said he would no longer respond to media requests, apart from in a biweekly press conference.
Human rights activists say press freedom in Myanmar has plummeted since Nobel laureate Suu Kyi took power in 2016 under a constitution that preserves the military's role in politics while formally ending decades of army rule.
A total of 38 journalists have faced charges under various laws since the start of her administration, freedom of expression group Athan said last month.
Two Reuters reporters were convicted last month of breaching the Official Secrets Act and sentenced to seven years in prison, drawing global condemnation. Wa Lone, 32, and Kyaw Soe Oo, 28, were detained last December while investigating a massacre of 10 Rohingya Muslims that took place during a military crackdown in western Rakhine state.
Also last month, a former newspaper columnist who was harshly critical of Suu Kyi on Facebook was sentenced to seven years in prison for sedition.
In late 2016, the chief executive and another editor of Eleven Media were detained for nearly two months relating to a complaint made by Yangon Chief Minister Phyo Min Thein over a Facebook post alleging corruption in his ties with local businessmen. Phyo Min Thein told a news conference at the time that the allegations were "intended to defame my personal dignity". Eleven Media published an apology.