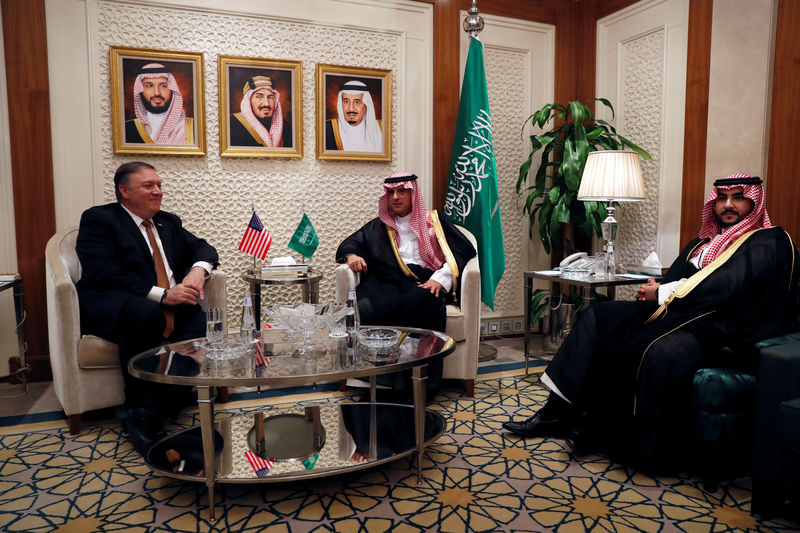 U.S. Secretary of State Mike Pompeo met Saudi Arabia's King Salman on Tuesday to discuss the disappearance of Saudi journalist Jamal Khashoggi, as Turkish police prepared to search the Saudi consul's residence in Istanbul in a widening probe.
Khashoggi, a U.S. resident and leading critic of the Saudi crown prince, vanished after entering the consulate on Oct. 2. Turkish officials say they believe he was murdered there and his body removed, which the Saudis strongly deny.
President Donald Trump, who dispatched Pompeo to Riyadh amid strained ties with the key ally, has speculated that "rogue killers" may be responsible after speaking with King Salman.
After talks with king, Pompeo met Foreign Minister Adel al-Jubeir and will have dinner with Crown Prince Mohammed bin Salman. He may go on to Turkey.
Overnight, Turkish crime scene investigators entered the Saudi consulate in Istanbul, the last place Khashoggi was seen before vanishing, for the first time and searched the premises for over nine hours, Reuters witnesses said.
A Turkish foreign ministry source said the police would search the consulate again on Tuesday as well as the consul's residence, which Turkish television has previously reported could be linked to Khashoggi's disappearance.
The case has provoked an international outcry against the world's top oil exporter, with media and business executives pulling out of an investment conference next week.
Pompeo was greeted at the airport by officials including Saudi ambassador to Washington, Prince Khaled bin Salman.
Some 10 Turkish investigators left the consulate before 5 am (0200 GMT), and a Turkish prosecutor departed around 1-1/2 hours later, followed shortly after by a Saudi team, witnesses said.
Forensic vehicles took away soil samples as well as a metal door from the garden, the Reuters witness said. A police dog was part of the search team.
"The Turkish crime scene investigators carried out searches in the consulate and took the things deemed necessary," a senior Turkish official said, after acknowledging the difficulty of collecting evidence 13 days after the alleged incident.
The U.N. human rights chief on Tuesday said immunity on diplomatic premises and officials should be lifted for the Khashoggi investigation.
Trump has threatened "severe punishment" if it turns out Khashoggi was killed in the consulate, but ruled out cancelling arms deals worth tens of billions of dollars. European allies have urged accountability for those responsible.
Many members of the U.S. Congress, which has long had a testy relationship with Saudi Arabia, have issued strong criticism of the kingdom.V
HSBC CEO John Flint backed out on Tuesday, as did the CEOs of Standard Chartered and Credit Suisse.
During the initial consulate search, CNN reported on Monday that Saudi Arabia was preparing to acknowledge Khashoggi's death in a botched interrogation, after denying for two weeks any role in his disappearance.
The New York Times, citing a person familiar with the Saudi plans, reported the crown prince had approved an interrogation or abduction of Khashoggi. It said the Saudi government, which could not be reached immediately for comment on the reports, would shield the prince by blaming an intelligence official for the bungled operation.
Turkish authorities have an audio recording indicating that Khashoggi was killed in the consulate and have shared evidence with countries including Saudi Arabia and the United States.
Saudi Arabia has said it would retaliate against any pressure or economic sanctions "with greater action," and Arab allies rallied to support it.
The Saudi riyal, rebounded early after falling to its lowest in two years over fears that foreign investment could shrink. Saudi stock index was down 3 percent in early Tuesday trade before it recouped some losses for a decline of 0.5 percent by 0949 GMT.
The chief executive of Clariant, which has Saudi Basic Industries Corp (SABIC) as its anchor shareholder, said rising tensions about Khashoggi could hit the Swiss specialty chemicals maker.
Khashoggi, a familiar face on Arab talk shows, moved to Washington last year fearing retribution for his criticism of Prince Mohammed, who has cracked down on dissent with arrests.
The insider never shied away from criticizing Saudi policies but gained prominence in many circles, including as an adviser to former Saudi intelligence chief Prince Turki al-Faisal.
Members of Khashoggi's family have called for "an independent and impartial international" investigation.
Khashoggi's fiancee Hatice Cengiz, who was waiting outside the consulate the day he disappeared, tweeted a Koranic verse warning those who kill on purpose, with the hashtag "Jamal is the Martyr of the Word".
A pro-government Turkish daily published preliminary evidence last week from investigators who it said had identified a 15-member Saudi intelligence team that arrived in Istanbul on diplomatic passports hours before Khashoggi disappeared. One of the names matches a LinkedIn profile for a forensic expert who has worked at the Saudi Interior Ministry for 20 years.