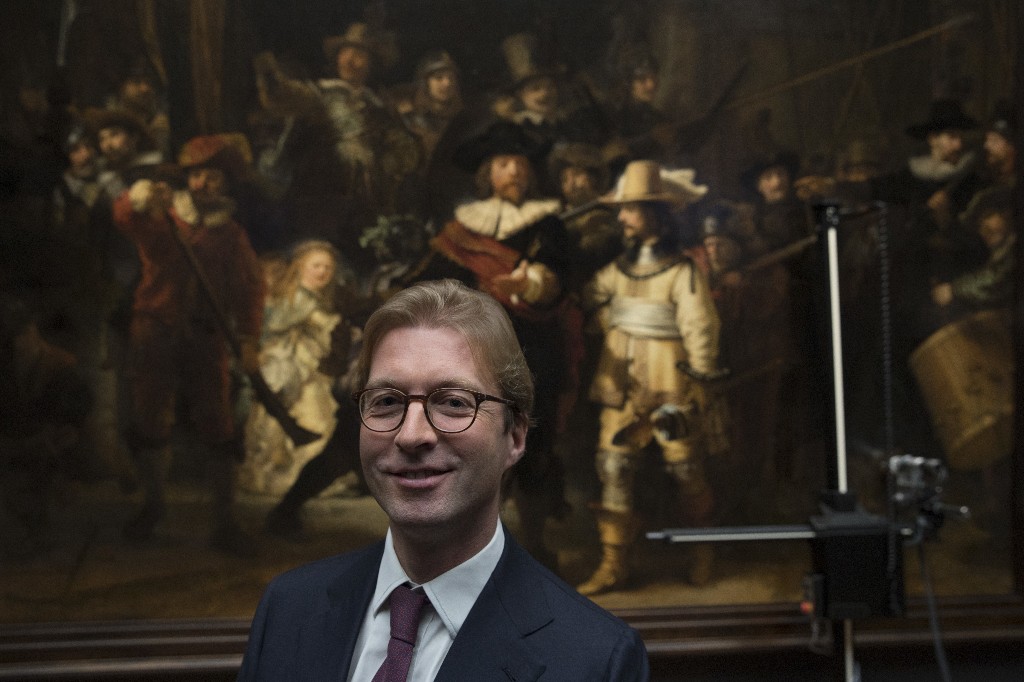 Rembrandt van Rijn's Golden Age masterpiece The Night Watch is getting a makeover.
Amsterdam's Rijksmuseum announced Tuesday that it will restore its most famous painting, starting next year in a project that will be open to the public and viewable online.
Rijksmusem General Director Taco Dibbits said that from July the huge Golden Age masterpiece will be encased in a specially built glass chamber as it first undergoes a thorough varnish-to-canvas examination using a precise microscope and other modern techniques. The findings will guide the subsequent restoration.
"The restoration techniques we now have are so advanced that we will safeguard the painting for future generations," he said.
The painting is ready for a little TLC. The work, which last underwent a restoration 40 years ago, is starting to show blanching in parts of the canvas.
"We want to understand what that change is so that we can restore it as well as possible," Dibbits told reporters at a presentation of the planned restoration.
The painting of a citizens' militia completed in 1642 has suffered in the past.
During the World War II Nazi occupation of the Netherlands, it was hidden along with other valuable artworks in a cave in the southern city of Maastricht. In 1975 a man slashed it with a knife, leaving 12 scars in the canvas, and in 1990 an attacker sprayed acid on the canvas damaging the varnish. It took restorers only a couple of weeks to repair the damage inflicted by the acid.
Dibbits said the painting has been retouched many other times in the past and that the later additions are starting to fade.
The next restoration should change all that.
"I think it will look much better," Dibbits said. "If you stand close to it, it will appear far more detailed. So it will be very special to see, but the restoration process itself will also be very special."
In the past, restorations have often been carried out behind closed doors, but museums now are starting to open up the process to the public.
The Night Watch "belongs to us all," Dibbits said.
"That is why we have decided to conduct the restoration within the museum itself and everyone, wherever they are, will be able to follow the process online."
More than 2 million people each year visit the Rijksmuseum, which has the world's largest collection of Rembrandt works. The Golden Age master is known for his innovative use of light and rebellious compositions.
The restoration project comes in the year that marks the 350th anniversary of the artist's death in 1669 and will be part of a "Year of Rembrandt" at the museum.
Before its restoration, The Night Watch will be part of a major exhibition of all the Rembrandt works owned by the museum — 22 paintings, 60 drawings and 300 of his 1,300 prints.