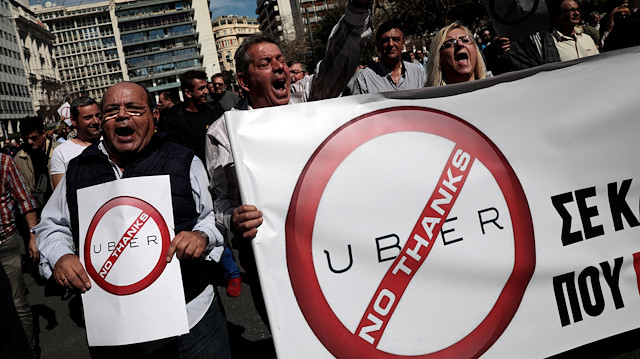 Greek taxi drivers started a 12-hour strike on Thursday over what they say is unfair competition from ride-hailing operators, in a sector still reeling from the country's financial crisis.
Greece imposed stricter regulations on the sector this year, including forcing app operators to apply for a permit and use licensed taxi drivers or face fines.
That led global ride-hailing service Uber to say it would suspend its operations in the country.
POEIATA, Greece's nationwide union of taxi drivers, called a strike from 0200 GMT to 1400 GMT on Thursday, saying that many taxi operators were still offering unlicensed services.
Athens's ubiquitous yellow taxis were absent from the city streets.
The union, which represents about 50,000 taxi drivers, also objects to discounts by some app operators.
The stoppage coincides with legal action taken by local app Beat against the head of the taxi drivers union for alleged defamation. Taxi drivers are expected to rally outside the court during the morning.