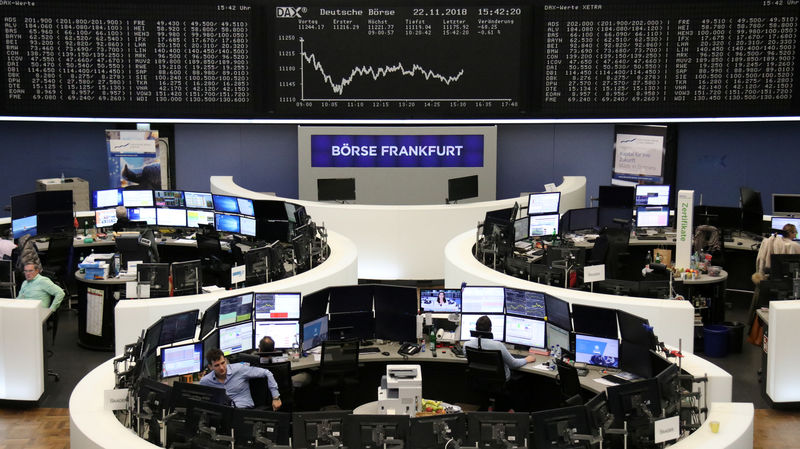 European shares rose modestly at the end of a volatile week, led by rebounding banks and technology stocks, while Italian equities rallied as bond yields fell.
The pan-European STOXX 600 was up 0.4 percent by 0940 GMT, while Italy's FTSE MIB .FTMIB outperformed with a 0.8 percent rise.
The European index was still set for its second straight week of losses as investors' concerns about slowing global growth, weak earnings, and a U.S.-China trade war drove them away from the region's equities.
"The market seems to still be concerned about the growth outlook and this comes along with a lot of discussions that we have on politics," said Britta Weidenbach, Europe portfolio manager at German asset manager DWS.
"The U.S.-China trade conflict, Brexit negotiations, Italy to some extent, all of this is causing worries that companies will further delay their investment decisions."
Growth-sensitive oil and mining sectors were the worst-performing on Friday.
Italian banks climbed after a media report that Italy's EU Affairs Minister Paolo Savona is considering resigning over the government's decision to challenge European Union budget rules. Savona denied the report.
Italy's banks' index .FTIT8300 climbed 1.9 percent as bond yields slid, boosting lenders who have large sovereign bond portfolios.
Banco BPM's (BAMI.MI) shares rose 3.4 percent, while Mediobanca (MDBI.MI), Unicredit (CRDI.MI), UBI Banca (UBI.MI), and Intesa Sanpaolo (ISP.MI) gained 1.6 to 2.6 percent.
Renault (RENA.PA) shares rose 2.8 percent after Deputy CEO Thierry Bollore said he would safeguard the carmaker's interests in its alliance with Nissan (7201.T), following the ouster of Carlos Ghosn as Nissan chairman over financial misconduct allegations.
Jefferies analysts upgraded Renault shares to "buy", writing: "The most likely outcome from the current crisis, in our opinion, is a re-balancing of the Alliance with cooperation continuing and Renault reducing its stake to a "fairer" level."
The carmaker's shares dropped 8.4 percent on Monday when CEO Carlos Ghosn was arrested over allegations of financial misconduct.
Telecoms equipment makers Ericsson (ERICb.ST) and Nokia (NOKIA.HE) climbed 2.5 and 1.5 percent respectively as traders saw a positive read-across from a Wall Street Journal report that the U.S. government is asking allies to shun telecoms equipment from China's Huawei HWT.UL.
Earnings disappointments drove the biggest losses on the STOXX.
Shares in stone wool insulation maker Rockwool (ROCKb.CO) dropped 9.9 percent after its third-quarter results.
German industrial machinery group GEA (G1AG.DE) fell 13.4 percent after it cut its outlook for 2018 cashflow margin.
Industrials firms have delivered weaker results as the slowdown in European growth, and trade war fears, hit those most vulnerable to the cycle first.
Data on Friday showed Germany's economy saw its first quarterly contraction since 2015 in Q3, driven by weaker exports.
Overall expectations for 2018 earnings growth in European stocks have fallen recently as investors price in a weaker economy.
"Markets do look really attractively priced by now, but the question is about the earnings," said Weidenbach.
"For next year consensus (earnings growth) is still at around high single digits, but certainly there are some clouds in the sky that might make the consensus a little bit too optimistic because of the economic environment," she added.