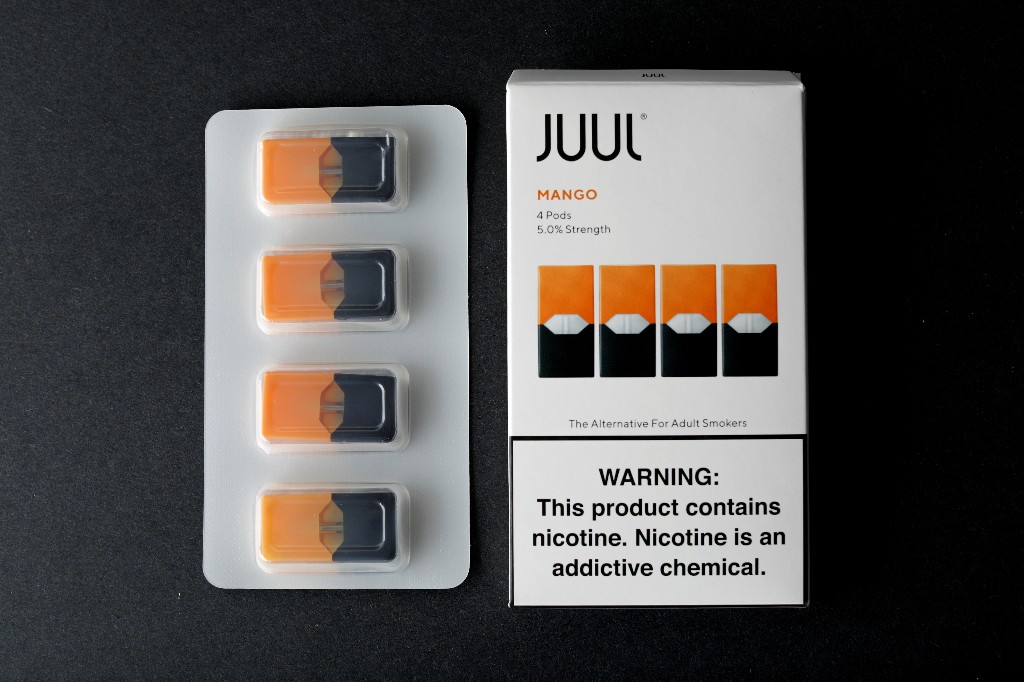 Juul Labs Inc is exploring selling its compact vaping devices in Asia and has sounded out government officials in Indonesia, one of the world's most smoker-friendly countries, although gaining approval there could face significant hurdles.
Expansion into Asia would provide the fast-growing firm with new markets at a time when it faces increased regulatory scrutiny in the United States and Israel over the potential health risks of its products' high nicotine content.
Juul representatives held discussions with the Indonesian government last month about introducing its vaping devices, the country's finance ministry officials told Reuters.
Indonesia has one of the world's highest rates of smoking among adults and teenage boys and imposes no penalties for selling cigarettes to minors. It also has a population of 260 million, making it a highly attractive market for tobacco and vaping firms.
A person familiar with Juul's plans said executives for the San Francisco-based company are concerned authorities may be reluctant to grant approval due to likely opposition from the traditional tobacco industry, which provides much of Indonesia's tax revenue.
Tobacco taxes accounted for nearly 150 trillion rupiah ($10.2 billion) or about 11 percent of national tax revenue in 2017, government data showed. Each province also imposes taxes on cigarettes.
Juul is also worried its argument that vaping is healthier than smoking will not hold much sway in Indonesia, which is not as concerned as other countries about health issues, said the person, declining to be identified as the discussions were not public.
Juul representatives reached out to the finance ministry to discuss how it would be taxed on any sales of devices there, the Indonesian officials said.
The government needs to examine the domestic e-cigarette market to determine how a foreign player such as Juul could hurt local small and labour-intensive e-cigarette firms, said Sunaryo, a senior official in Indonesia's customs and excise office, who like many Indonesians uses only one name.
"We will need it to study it," he said, adding he wasn't sure Juul would comply with a regulation that requires e-cigarette devices and liquids to be sold separately.
Juul also would need approval from Indonesia's Food and Drug Agency. Officials at the agency said Juul had yet to be in touch.
Other Asian countries the three-year old firm is actively considering for expansion include India, South Korea and the Philippines, the person familiar with Juul's plans said.
In addition to Indonesia, Juul filed trademark applications for those countries between April and October 2018, as well as in Malaysia and Singapore, according to a Reuters review of government filings. It opened its first Asia office in Singapore in July.
So far Juul, currently valued at $16 billion, is available only in the United States, Canada, the UK and Israel. It has plans to enter Russia later this year.
Juul said in a statement to Reuters it is "proactively learning more" and engaging with local officials in Asia "to understand and hear their views." It does not have immediate plans to launch in any Asian country, it said. Juul spokeswoman Victoria Davis declined to elaborate.
Indonesia is one of only a handful of United Nations member states that has not signed on to the World Health Organization's global treaty that sets standards for tobacco control.
Roughly two-thirds of Indonesian men smoke tobacco daily, and more than 21 percent of boys aged 13-15 smoked cigarettes regularly, according to a WHO report last year.
E-cigarettes, available in Indonesia since at least 2013, are a small but growing market. The customs office estimated there are about 300 unsupervised liquid makers known as brewers in Indonesia, producing various liquid products to more than 4,000 vape stores and 900,000 smokers.
Philip Morris International Inc (PM.N), maker of Marlboro cigarettes, which now controls about a third of Indonesia's market through its stake in Sampoerna, does not offer any of its non-combustible cigarette products in Indonesia.
That includes its IQOS device, a heat-not-burn tobacco product, according to a company spokesman, who declined to comment on why it has not introduced the product.
In October, the government imposed a 57 percent tax on electronic-cigarette liquids, on par with taxes on traditional cigarettes. But tax collection, particularly from smaller companies, is difficult in Indonesia and new rules are often ignored.
Juul now commands nearly 75 percent of U.S. e-cigarette market share, up from 13.6 percent in early 2017, according to a Wells Fargo analysis of Nielsen retail data.
Its products, like most electronic cigarettes, vaporize a liquid containing nicotine. One Juul pod contains as much nicotine as a traditional pack of 20 cigarettes, according to the company's U.S. marketing.
Juul liquid in the U.S. has a nicotine concentration of 59 milligrams per milliliter, much higher than the liquids typically sold in earlier versions of e-cigarettes and nearly three times the allowable limit in the European Union.
In August, Israel banned Juul devices with nicotine concentration of more than 20 mg/mL, citing "a grave risk to public health." Juul is appealing that decision and currently offers a lower nicotine-strength electronic cigarette in Israel.
In September, the U.S. Food and Drug Administration opened an investigation into Juul and other electronic cigarette companies, citing the rising number of teens who appear to be using Juul and other vaping devices. This week it is expected to issue a ban on fruit and candy-flavoured e-cigarettes sold in convenience stores and gas stations.
Juul said its products are intended for adult use only, and that it aims to "improve the lives of the world's one billion adult smokers" by providing an alternative to cigarettes.