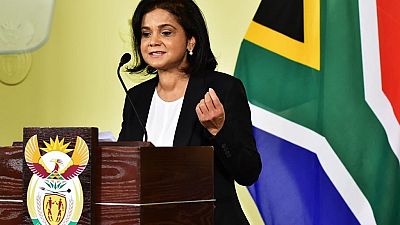 President Cyril Ramaphosa named Shamila Batohi South Africa's new chief prosecutor on Tuesday, after the Constitutional Court ruled in August that the appointment of the previous prosecutor was invalid.
Ramaphosa, who replaced former president Jacob Zuma in February, has made the fight against corruption a key plank of his administration as he seeks to restore investor confidence after nearly a decade of scandals during the Zuma era.
The highest court in the country ruled in August that Zuma had abused his powers by removing chief prosecutor Mxolisi Nxasana and appointing Shaun Abrahams as his replacement in 2015.
Having a credible National Director of Public Prosecutions (NDPP) heading the National Prosecuting Authority is seen as crucial for Ramaphosa's commitment to fight corruption.
Batohi, who has worked for the past nine years as a legal adviser to the prosecutor in the International Criminal Court in The Hague, is seen by political commentators as untainted by local political factions.
Before her work at the ICC, Batohi was director of public prosecutions for the South African province of KwaZulu-Natal.
Ramaphosa said in a speech the NDPP should not be beholden to political or business interests and that Batohi had "the experience, conscientiousness and integrity" to succeed.
Batohi will start her new role in February 2019.
The previous prosecutor, Shaun Abrahams, was accused by the opposition and rights groups of shielding former president Zuma from corruption charges during his nine years in office.
Zuma refuted allegations of corruption and mismanagement, and his appointee Abrahams denied protecting Zuma.