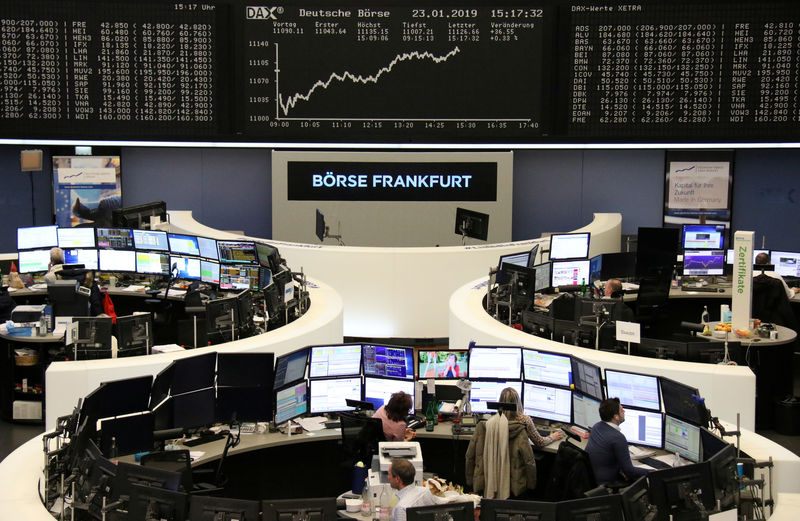 European shares climbed on Thursday as better-than-expected results from chipmaker STMicro delivered a boost to the tech sector, shaking the market out of a subdued mood caused by slowing global growth.
The pan-European STOXX 600 gained 0.4 percent by 0930 GMT, in line with Germany's DAX .GDAXI while Italy's FTSE MIB .FTMIB climbed 1.1 percent.
The tech sector .SX8P led the way, jumping 1.8 percent as investors pounced on a bit of good news from chipmaker STMicro, soothing fears about a sector which has been bruised by slowing demand.
Chipmaker STMicroelectronics (STM.MI) jumped 7 percent after reporting a fourth-quarter margin slightly above targets, though it predicted a sharp fall in first-quarter sales.
Liberum analysts said such large estimate cuts are largely priced into semiconductor stocks, adding: "We therefore regard current weakness as a strong buying opportunity".
AMS (AMS.S), Siltronic (WAFGn.DE), Infineon (IFXGn.DE), ASML (ASML.AS) rose 3.7 percent to 73 percent.
Investors are watching results like hawks this season after earnings expectations sank as a slowing global economy took its toll. Companies' comments on both current trading and the future outlook will be critical.
"The earnings season has been reasonable so far, but when you've got these macro headwinds it doesn't give people confidence to place their marginal pound in risk assets," said Gary Waite, portfolio manager at Walker Crips Investment Management.
Disappointing results dented some.
Shares in Danish pharmaceuticals company Novozymes (NZYMb.CO) fell 3.1 percent, the biggest STOXX faller, after the CFO said Middle East markets were likely to remain weak in 2019.
Italian fashion brand Tod's (TOD.MI) was also punished by the market, falling 5.6 percent after it said like-for-like sales for 2018 fell 3 percent due to a worsening of the performance in Italy and the rest of Europe.
"Despite it mentioning 'visible' results from recently launched initiatives, we cannot ignore that it has been guiding for – and failing to deliver – an H2-weighted rebound for more than two years," wrote Berenberg analysts.
"We believe a turnaround is unlikely to materialize anytime soon," they added.
Outside results, deal news drove some moves.
Denmark's DSV (DSV.CO) rose 1.9 percent to a three-month high after Kuehne & Nagel (KNIN.S) said Panalpina (PWTN.S) was too overvalued for it to make a takeover bid.
Kuehne & Nagel's comments cut the probability of a costly bidding war for Panalpina, a positive for DSV which approached the Swiss logistics firm with a $4.1 billion offer last week.
Broker notes moved some stocks.
Swiss chocolate maker Barry Callebaut (BARN.S) climbed 4.9 percent with traders citing an upgrade from Goldman Sachs, while Fresenius climbed 3.6 percent after BAML upgraded it to "buy".
Investors remained skeptical any market rally could last as long as the U.S.-China trade war and Brexit negotiations remained unresolved."I still think the headwinds are still too strong, we see the market trading sideways until some of these issues get resolved," said Walker Crips' Waite.