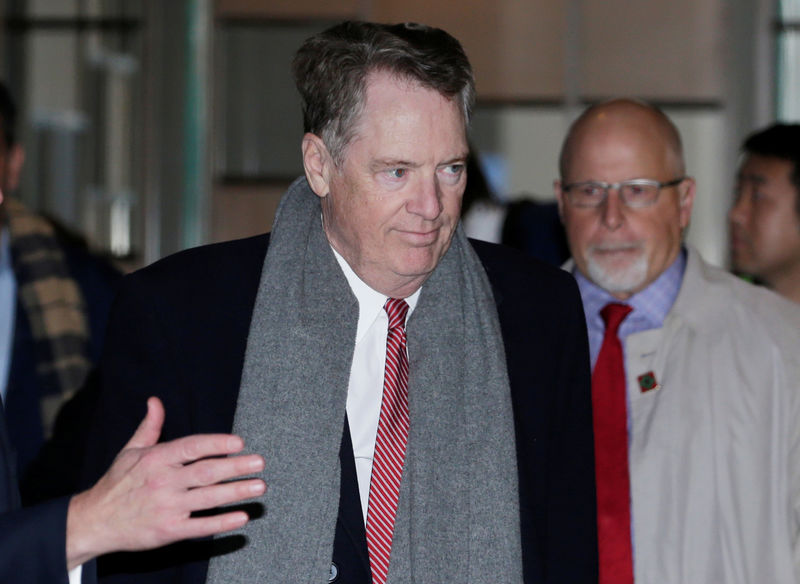 U.S. Trade Representative Robert Lighthizer arrived in the Chinese capital on Tuesday ahead of high-level trade talks scheduled this week for the world's two largest economies to hammer out a deal ahead of a March 1 deadline.
After that date, U.S. tariffs on $200 billion worth of Chinese imports are scheduled to increase to 25 percent from 10 percent.
Lighthizer did not answer reporters' questions on his arrival at a Beijing hotel.
He and U.S. Treasury Secretary Steven Mnuchin are set to hold talks on Thursday and Friday with Chinese Vice Premier Liu He, the top economic adviser to President Xi Jinping, according to previously announced schedules by Beijing and Washington.
The U.S. embassy did not provide any details on Lighthizer's schedule for Wednesday.
Washington is expected to keep pressing Beijing on long-standing demands that it make sweeping structural reforms to protect American companies' intellectual property, end policies aimed at forcing the transfer of technology to Chinese companies, and curb industrial subsidies.
Talks kicked off in Beijing with discussions among deputy-level officials on Monday before minister-level meetings later in the week. A round of talks at the end of January ended with some progress reported – but no deal and U.S. declarations that much more work was needed.
U.S. President Donald Trump said last week he did not plan to meet with Xi before the March 1 deadline, dampening hopes that a trade pact could be reached quickly.
However, White House senior counselor Kellyanne Conway said on Monday a meeting was still possible soon, telling Fox News Channel that Trump wants a deal with China, but it must be "fair to Americans, and American workers and American interests".